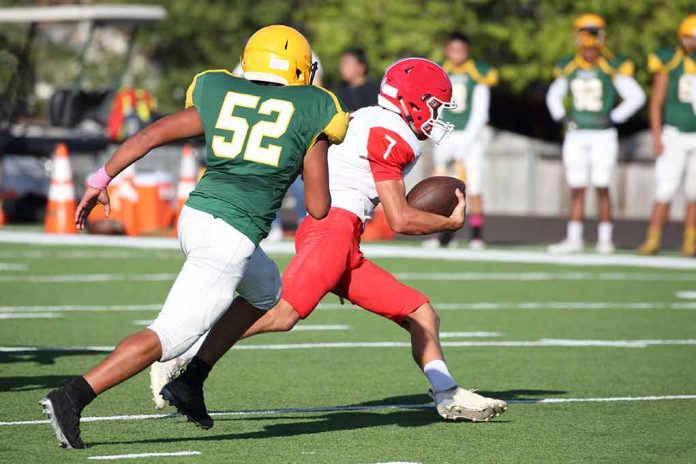 (Daily360.com) – A high school student on Long Island, New York, remains on life support since tragedy struck earlier in the week at his football practice. 17-year-old Robert Bush abruptly doubled over and fell to the field unconscious. Coaches rushed over and did all they could to resuscitate the young man but were unable to save him. 
They performed CPR and used a defibrillation machine to try and start Bush's heart when they ascertained it had stopped. Bush never regained consciousness on the field, in the ambulance or at the hospital. Doctors said due to the "cardiac event" his brain had no blood flow for at least 45 minutes upon arrival. His grief stricken father also named Robert and his family speculate the young man may have had a hereditary heart condition. 
Robert Bush was adopted by Robert and Patricia Bush who in total adopted 11 children before Patricia died in 2017 from cancer. The elder Robert Bush describes his son as "just like" his siblings with dreams of marriage and children. Young Robert's brother Steve remembers his brother as wanting to join the football team to get in better physical shape. He jokingly referred to his somewhat diminutive bother as "Rudy" the title character of the film which tells the story of an undersized student trying to play college football at Notre Dame. Steve said they've accepted Robert's condition and lack of brain function and said the family is "dealing with the end." 
Stories like this are becoming all too common lately. In 2021 three young athletes, Jake West, Zac Mago and Mark Mayfield from different parts of the nation all died suddenly of "cardiac events." Their parents have made it their cause that automatic external defibrillator (AEDs), which was on site for Bush's practice be present at every sporting practice or game. They are also advocating for regular heart screenings. The issue has also cause division within the nation as many people attribute this trend to the mRna COVID-19 vaccine while others dispute that and claim the heart ailments are coincidental.
Copyright 2023, Daily360.com