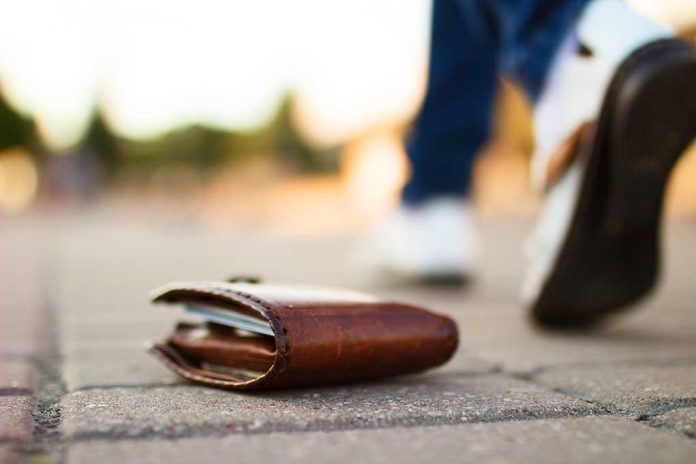 (Daily360.com) – Realizing you've lost your wallet is a frightening feeling. There's a lot packed into that leather folder, and going without it can lead to some real problems. Even worse, whoever has it now could potentially cost you a fortune. To minimize the damage, there are some steps you need to take right away:
10 Things to do if you lose your Wallet#wallet #lostmywallet #lostwallet #tricks #smart #cash #money #bills #lifehack #tip #CreditUnion #lost #lostandfound pic.twitter.com/IDCIBIxxdC

— Eagle Community CU (@EagleCommCU) August 9, 2021
Look for your wallet. Have you really lost it, or did you just mislay it somewhere? If you're on your way home from work, call the office and ask. If you're on your way there, call home and check that it's not where you last left it. If it really is lost, retrace your route. On busy pavements, wallets often get kicked into the gutter or up against a wall, so check to both sides as you go.
If you don't find it quickly, make a list of everything that was in your wallet. Now, you know who to call.
Contact your credit and debit card companies. Freeze the cards, so nobody can run up a bill on them, and order replacements.
Contact the three main credit bureaus, activate fraud alerts, and freeze your credit.
Call the police. Many misplaced wallets get handed in. Reporting the loss also gives you legal cover if you become the victim of identity theft.
If your driver's license was in your wallet, contact the Department of Motor Vehicles and order a replacement.
Contact your health insurer if you need to replace that card, too.
Log in to all your bank accounts at least once a day and look for any suspicious activity. If you spot any, let your bank know right away.
A lost wallet can be a recipe for disaster without the right precautions. Taking the right steps as soon as possible can save you a lot of time, money, and heartache in the long run.
Copyright 2022, Daily360.com