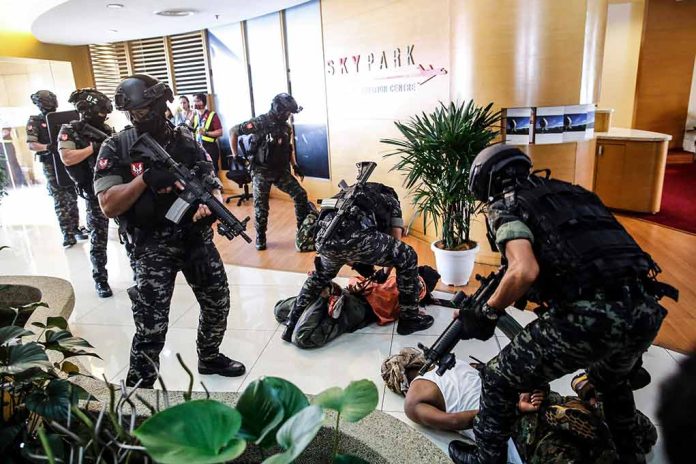 (Daily360.com) – A small newspaper co-owner is dead, possibly due to stress caused by a police raid of her home. A newspaperwoman since 1953, 98-year old Joan Meyer of Kansas was at home with her son Eric Meyer, who is the other co-owner of the Marion County Record newspaper in Kansas, when the raid occurred. The small paper has a local circulation of about 2,200. 
Late last week seven local law enforcement officers raided not only the home of the owners but also the newspaper offices and seized computers, smart devices, routers, photographed documents around the home and even took the cell phones of some employees. Prior to her death Joan Meyer described the raid as "Hitler tactics" and admonished those who took part in it.
Eric Meyer said his mother had been in good health for a woman her age prior to the raid but in the days following she was stressed to the point of having difficulty eating and sleeping. He believes this stress led to her death. 
The issue that prompted the raid doesn't seem to merit such a heavy-handed approach. The paper was investigating a local restaurateur named Kari Newell and her application for a liquor license for a business she owned. The Record dug up evidence that Newell may have been ineligible due to a prior drunk driving conviction along with driving without a license. 
Newell has admitted to these offenses but claims her reputation was being damaged. The paper decided not to run the story and never made any of these details public in a story. Nonetheless, a judge signed the warrant for the suspicion that entities of the newspaper may have misrepresented their identities while gathering their information on Newell. Typically in situations like this police raids are unheard of; rather, subpoenas are issued and the matters are worked out in court.
Eric Meyer said this unprecedented action is sure to have a "chilling effect" and scare people off who may want to speak to the press. Emily Bradbury, the executive director of the Kansas Press Association echoed Meyer's concerns and added the raid infringed on the rights of journalists and was also an assault on the public's "right to know." Police officials defended their actions by saying in part; it is their "fundamental duty" to ensure the safety of "all members of the public." 
Copyright 2023, Daily360.com