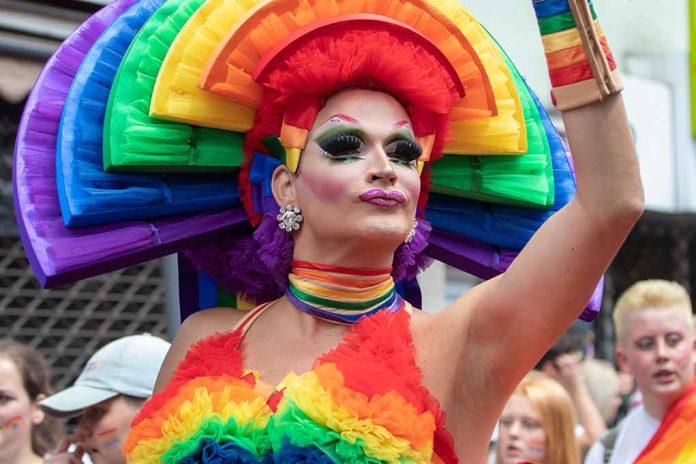 (Daily360.com) – "No minimum age requirement" is what it reads at the bottom of the post advertising the "free community drag showcase" at Nellis Air Force Base in Nevada. The existence of this event taking place on June 1, 2023 would seem to be direct opposition to the words of Secretary of Defense Lloyd Austin. The Secretary was asked by Congressman Matt Gaetz (R-FL) while testifying before the House Armed Services hearing why these kinds of shows take place on military grounds to which Austin replied they do not. Austin went so far as to say drag shows are "not something the Department of Defense (DoD) supports or funds." This testimony took place just last month and yet here one will be held in June.
Nellis Air Force Base has an organization called the "LGBTQ+ Pride Council" which is putting the event on. They advertise performers from the television show "RuPaul's Drag Race" and also bill it as the "third annual" revealing this is not a new event for the base. It will take place on Air Force grounds at the Nellis Officer's Club. The theme is celebrating Stonewall and drag. Stonewall referring to the bar in New York City where a police raid took place which led to a riot and is regarded as a landmark moment for the LGBT community.  
After Austin gave his categorical denial, Gaetz followed up by showing him adverts similar to the one for Nellis' June show as proof the events are taking place. Austin repeated his denial with extra emphasis that the DoD does not fund or support such events. Representative Jim Banks (R-IN) sent a letter to Austin after his exchange with Gaetz challenging him directly on the truthfulness of his claim and additionally questioning the Navy's use of Yeoman 2nd Class Joshua Kelley as a "Navy Digital Ambassador" performing in drag as 'Harpy Daniels.' No further remarks from Austin have been made on either matter.
Copyright 2023, Daily360.com