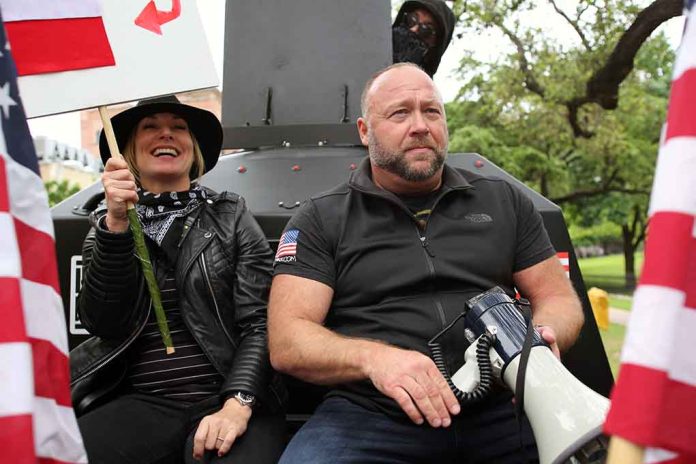 Alex Jones Allegedly Moved Money to Hide it From Sandy Hook Families
(Daily360.com) – On December 14, 2012, Adam Lanza walked into Sandy Hook Elementary School in Newtown, Connecticut, and murdered 20 children and six adults. Subsequent rumors swirled that the massacre was really a hoax and Infowars host Alex Jones helped perpetuate it. Multiple courts recently ordered him to pay over $1.873 billion as punishment for his defamatory statements.
On November 21, The Washington Post reported on documents proving that when Jones anticipated a loss in court, he started moving millions of dollars from his media company to other organizations he and other family members owned. The outlet reviewed financial statements and combined those findings with court records to conclude the radio host allegedly made those transfers to hide money from people pursuing legal action against him.
Records show Jones transferred millions from his media company to firms that he or his family members controlled.https://t.co/rPAvtFbLu6

— The Washington Post (@washingtonpost) November 21, 2022
Apparently, Jones began paying exorbitant amounts of money to vendors that included his family and began racking up debt in swift fashion, sending his media company, Free Speech Systems, into bankruptcy. Attorneys for the business claim the obligations snowballed as a result of "sloppy bookkeeping." The Infowars host also reportedly secured promissory notes in the amount of $55 million to cover "past debts" to PQPR Holdings — a company he owns with his parents.
Unfortunately, that means the families of the Sandy Hook victims who won in court could be fighting with creditors for payment. In the continuing saga, attorneys for the Sandy Hook families claim PQPR is not "an independent business." However, lawyers for the entity believe PQPR should be paid first. Ultimately, that decision is up to the bankruptcy court.
Copyright 2022, Daily360.com