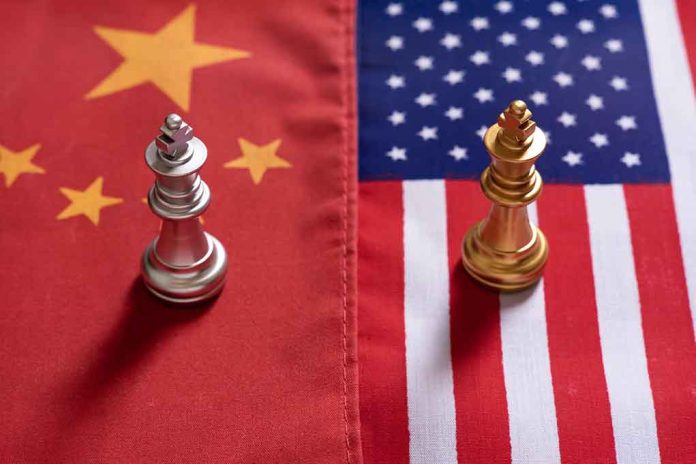 (Daily360.com) – In a time when most Americans can find very little to agree on, it seems China and its expansionism into the US have found a way to unite them. A recent Convention of States/Trafalgar Group survey showed a whopping 76.3% of Americans said "yes" when asked if there should be a freeze on Chinese-owned construction or deliveries near American military bases. The question lead with a reference to the Chinese spy balloon which was allowed to traverse and surveil large swaths of the American landscape.
When you dig into the numbers further we see that even a majority of Democrats responded yes to the tune of 64% which then combined with an overwhelming number of Republicans at 89%. Independents nestled right in between the two at 75%.
The Chinese balloon referenced in the question is described as a "high-altitude surveillance balloon" equipped with electronic surveillance technology capable of monitoring a wide array of communication and signals on the ground. For its part, the Chinese government claims it was a weather technology device. The U.S. military eventually shot the balloon down over the Atlantic Ocean but a majority of Americans felt this action should have been taken sooner.
Senator Marsha Blackburn (R-TN) wants more, she's demanding action on her recently introduced legislation to ban Chinese (CCP) ownership of any farmland near military installations. She posted to social media her dissatisfaction that all her Democrats colleagues voted against her proposal.
Apart from Blackburn, the Biden administration claims it is "exploring" punitive action over the surveillance balloon. The State Department announced this in a lengthy statement detailing what equipment was housed on the balloon. However, as for hard evidence, the FBI and other agencies have recovered very little of the balloon and its equipped technology. Most seem to be lost at sea; to this point, they have only been able to collect what was floating on the water.
Copyright 2023, Daily360.com