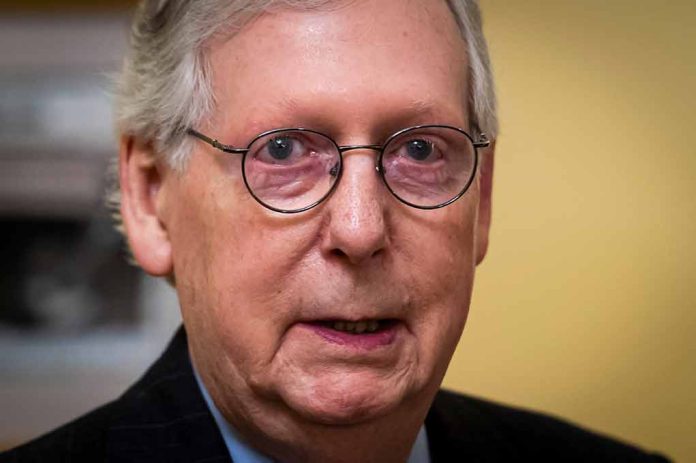 (Daily360.com) – Mitch McConnell, the 81-year-old Senate Minority Leader, appeared to freeze up and have some sort of mental episode last week while speaking to reporters. He was speaking in Covington within his home state of Kentucky when the incident took place. 
McConnell was asked by a reporter if he's thinking about running again in 2026, he chuckled a bit and then just blankly stared out in the direction of the reporters. After a few moments a female staffer moved in alongside the senator and loudly asked if he heard the question after which she repeated it. McConnell meekly said "yes" without breaking his blank stare but didn't say anything else. This lasted for about 30 seconds. The female staffer asked a man to come toward them, the man spoke softly to McConnell, after which McConnell finally broke the stare looked over the gaggle of reports and said "ok." He did not answer the question and the female aide asked reporters if they had any more questions and if they did, they should speak up.
They asked a couple of questions, one relating to the Attorney General of Kentucky. Daniel Cameron, his aide repeated the question to him. The second question was about Donald Trump, McConnell didn't answer it and then left the room. He delivering scheduled remarks and took questions about Congressional funding and issues regarding Ukraine. The freeze-up came after he had been speaking for roughly a half hour. This episode mirrors another from July when the Minority Leader was speaking on Capitol Hill and he froze and stared for about the same amount of time before fellow senators and staffers ushered him away, he returned a bit afterward saying he was "fine." Prior to these episodes, McConnell had to take a long period of time off after a March fall that left him concussed. 
Regarding the most recent freeze, a spokesperson said McConnell felt "momentarily lightheaded" and then described him as "fine." The spokesperson also said he made phone calls to fellow senators later in the day, one of whom said McConnell was in "good spirits."  Joe Biden who served in the senate with McConnell for decades, described him as "…a friend, as you know – not a joke" and said he's looking forward to speaking with him soon to check on his health. Biden, 80, has also had some odd speeches, gaffes and falls over the past couple of years.  
Copyright 2023, Daily360.com