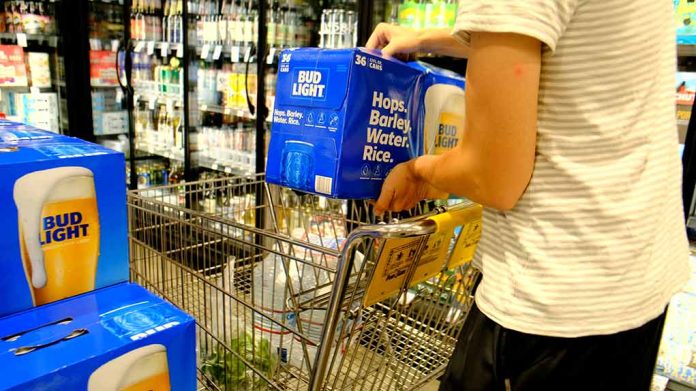 (Daily360.com) – In recent months Bud Light has gone from a very popular beer brand to a very unpopular boycott target. Since their ill-fated partnership with trans TikTok influencer Dylan Mulvaney Bud Light has seen its profile drop and stock value plummet. Additionally, people have been posting videos of grocery stores that only have Bud Light remaining on the shelves despite drastic price mark downs, videos of Bud Light being crushed in large hydraulic presses, Kid Rock shot several cases with a gun and people have performed skits mocking the brand. Another dimension may be opening up as America First Legal posted to their Twitter feed asking any stock holders in the company to reply to their tweet regarding possible legal action for the management induced value decline. Anheuser-Busch, the parent company of the Bud Light brand has seen its stock plummet 9% in 2023 including a 5% drop earlier in the week. 
Analyst data shows that Anheuser-Busch has had a 17% drop across their line of brands with Bud Light declining 28% among that group over the last month. The Mulvaney partnership has industry insiders and experts questioning Bud Light's entire business approach, they worry the company may be hiring management who make decisions based on criteria other than brand strength and profit potential. They wonder if management could damage a once iconic brand like Bud and Bud Light by alienating the core consumer while not bringing in a new consumer base, what future could there be. Most lawyers offering thoughts are of the opinion any lawsuit brought against Anheuser-Busch would be extremely hard to win as to proving negligence or other deliberate liabilities.
Bud Light is continuing forward nonetheless, the company announced this week they will be donating $200,000 to the LGBT Chamber of Commerce. Anheuser-Busch released a statement saying they're proud of this year's long partnership and want to fund "the growth and success of minority LGBTQ+-owned businesses" and advance the interests of that community.
Copyright 2023, Daily360.com