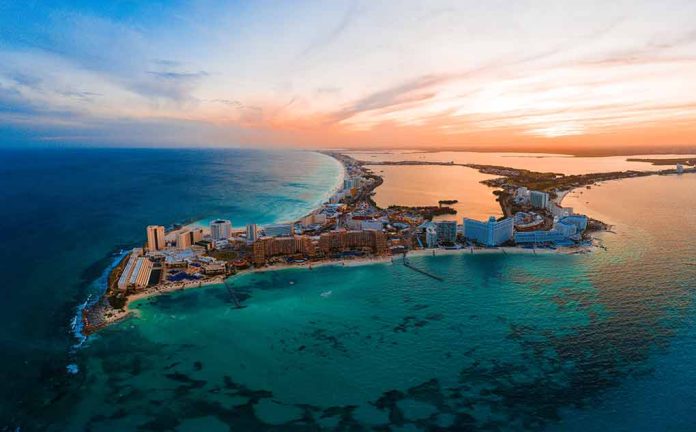 (Daily360.com) – As the power, finances and influence of the cartels grow so does their expansion and reach. Cancun, Mexico has long been a popular destination for Americans of all ages to enjoy the beach, the resorts and the relaxing environment. Earlier this week the cartels dumped eight dead bodies within ten miles of the tourist area. The bodies turned up after an investigation by police looking for persons reported missing. They were found in a variety of areas such as wooded lots, sinkhole spots and a few were located at an abandoned construction site.
Authorities have identified three of the people as reported missing, the others have decomposed to varying degrees and they're still trying to identify the remains. The bodies appear to have been dumped from between one week to two months prior. On the whole authorizes report more than 112,000 people are still listed as missing with whereabouts unknown. Because of the tourist trade this area of Cancun was usually considered relatively safe from crime and this sort of criminal activity. The cartels however are now battling for the drug trade along coastline areas putting Cancun on their territory map. 
Earlier this month four people were killed in Cancun and this was also linked to cartel violence. Authorities believed that killer is a notorious drug dealer who is known by the moniker "Pantera" or 'the panther.' In 2022 two Canadian citizens were killed in the area over what police believe was a gripe over debts owed between drug gangs and weapons gangs.
In 2021 about 80 miles to the south of Cancun in a town called Tulum, two tourists, one American and one German were gunned down as rival drug dealers began a gun battle in the streets. Earlier this month cartels kidnapped four Americans in Matamoros, Mexico killing two and dumping the other two wounded on the street. As the violence and body count rises the U.S. State Department has issued a travel alert to 'exercise increased caution' when traveling especially after dark to Cancun and the surrounding towns.
Copyright 2023, Daily360.com