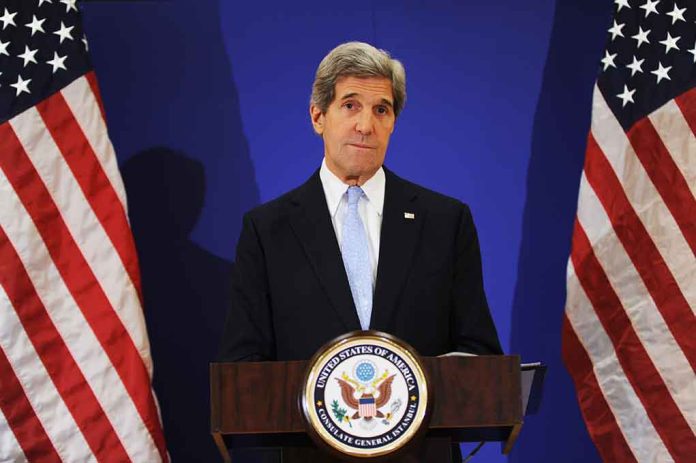 (Daily360.com) – John Kerry who travels the globe as the U.S. climate envoy made remarks recently that talks with China have grinded to a halt. He laid the blame on tension increases between Washington and Beijing. Kerry is saddened that his climate agenda has been "mixed up" with other issues between the nations, including the recently floated and then scuttled Chinese spy surveillance balloon released over America.
The Biden administration is steadfast in its position that combating climate change with China is a most important priority issue. Daniel Kritenbrink, Assistant Secretary of State for East Asian and Pacific Affairs testified recently before House Foreign Affairs Committee about issues with China. He testified that among all the issues existing between the nations, "certainly climate change would be one" after which he went on to name other issues such as food shortages, later he mentioned pandemics and then war.
Kerry has in the past praised the Chinese Communist Party (CCP)'s actions on climate. For their part, however, it's hard to see what the CCP has done to earn such praise. They're approving and building new coal plants at a rapid rate as we continue to shutter what we have domestically. China is already responsible for about half of all coal consumption globally and those numbers will only increase as new plants are constructed.
After the spy balloon incident, Secretary of State Anthony Blinken canceled his planned trip to China. China's president Xi Jinping has accused the United States of "holding back" their progress and stifling their growth. To which State Department Spokesman Ned Price responded that the U.S. is not trying to stifle the CCP but rather is trying to compete with it.
President Xi did not leave room for interpretation as he plainly stated Western nations and specifically the United States has "…implemented comprehensive containment, encirclement and suppression against us" which he contends are hampering the nation's prosperity and growth.
Copyright 2023, Daily360.com