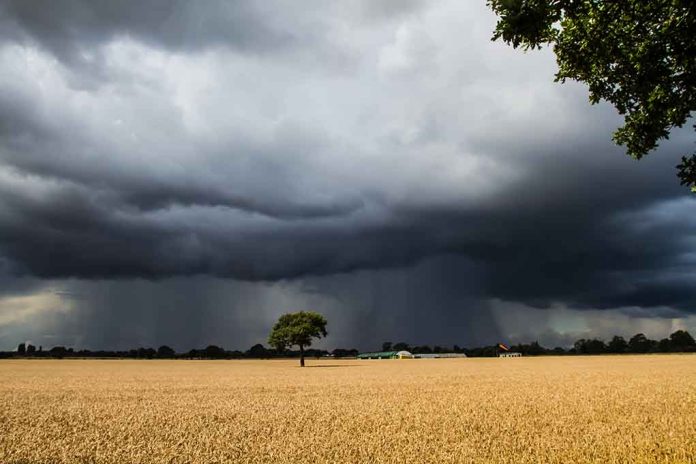 (Daily360.com) – China is facing one of the worst droughts ever recorded. The government is concerned the lack of water could severely impact the nation's food production chains. Officials have resorted to extreme measures to protect endangered crops, shutting down factories to preserve the precious resource. Now, they want to induce rainfall chemically.
Heating Up
According to China's official press agency, Xinhua, the National Meteorological Center (NMC) issued a "yellow" drought alert on August 18. Yellow is the third lowest ranking in the country's weather monitoring system on a four-level scale that ranges from blue (no concern) through red (extreme concern).
The NMC's warning specifically applied to 10 provinces, regions, and municipalities including Anhui, Chongqing, Guizhou, Hubei, Hunan, Jiangsu, Jiangxi, Sichuan, Tibet, and Zhejiang. The weather service urged these areas to produce "artificial rainfall" when necessary to reduce the risk of wildfires.
Making It Rain
Chinese officials are allegedly already deploying drought relief teams and water supply vehicles in some of the aforementioned areas. Meanwhile, other regions have diverted massive amounts of the liquid for irrigation.
Many regions have sprayed their crops with fluid-retaining agents to reduce evaporation.
China is also currently investigating cloud-seeding, a process that involves releasing chemicals into the air to induce rainfall. Some areas could even turn to rockets to launch the substances into the sky. While this measure may seem extreme, the core goal is to preserve crops and ward off the side effects of the ongoing drought.
Cause for Concern
Chief NMC Forecaster Chen Tao told Xinhua the heatwave began at a critical timeframe in China's autumn grain growth. Approximately 75% of the country's grain output occurs between June and August. Many other key Chinese crops, such as mangoes, tea trees, and citrus fruits, are vulnerable to high temperatures.
A reduction in China's grain harvest could also have global implications. Decreased crop output would result in a higher import demand at a time when the world's food supply is already facing shortages due to the Russian conflict in Ukraine. China is a major producer and exporter of rice.
A reduced supply would mean the country can't ship as much rice as it would like to, resulting in price increases around the world and added pressure on the US and Europe as inflation reaches its highest level in decades. Countries that are already struggling to access wheat could find rice more challenging to obtain, too.
Copyright 2022, Daily360.com