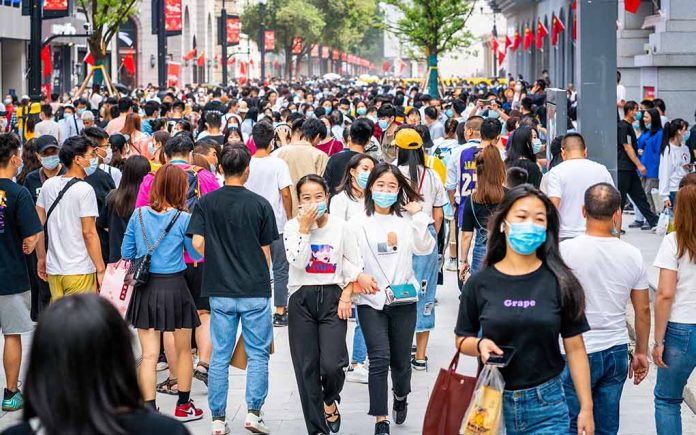 (Daily360.com) – Chinese authorities are frantically trying to censor a photograph from a female track event because it coincidentally may make people think of the 1989 Tiananmen Square massacre. One runner named Wu Yanni was given a red card as she was judged to have gotten off to an early start. She objected to the sanction and was allowed to participate.
Wu finished the race 0.03 seconds behind her teammate Lin Yuwei. Race officials disqualified Wu nonetheless and a runner from India was able to claim the second place silver medal. It was at this moment the controversial photograph was taken. Lin embraced Wu in a brief hug to support her teammate; stickers of the runner's lane numbers "6" and "4" on each runner's hip were prominent in the picture.
The Tiananmen Square tie-in that prompted the Chinese Communist Party's (CCP) effort to censor the photo is that any references to June 4th are prohibited. That is the date of the massacre. Within within the Chinese community "6/4" is written for people to remember what took place. When CCP officials see references to 6/4 on the internet or anywhere else they are removed. Once noted, the photo of the runners appeared online with large gray squares covering their numbers. Chinese censorship is primarily done by humans and not artificial intelligence; a 'monitor' will see an image and try to restrict it.
The photo was widely circulated on the Chinese social media app Weibo before it was flagged for censorship. It was flagged by more than 1,000 CCP 'supervisors' who labeled it as "pornographic, illegal or harmful" to get it taken down. Wu herself put up a Weibo post apologizing to her fans for the red card and subsequent disqualification with the photo below it. Some commenters did see a 6/4 reference as one posted below Wu's apology "the 1989 Asian Games" as a direct Tiananmen Square reference.
Copyright 2023, Daily360.com