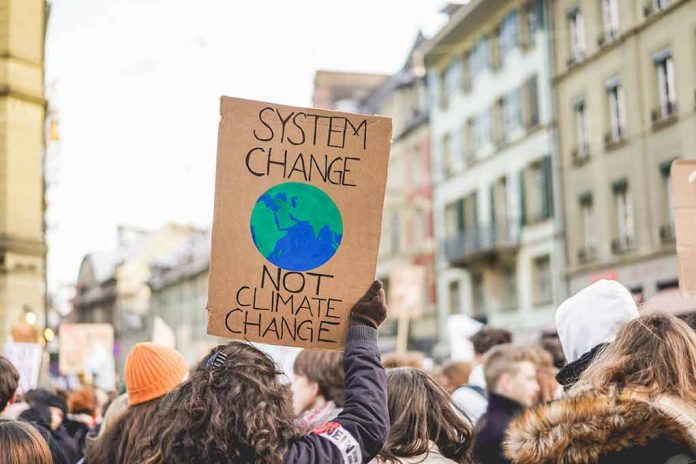 (Daily360.com) – A video going very viral this week shows a couple dancing on a Swedish version of "Dancing with the Stars" when climate activists stormed the stage in protest of oil. Olympic skier Charlotte Kalla and her partner Tobias Karlsson were deeply immersed in their routine never stopping or paying any attention to the protestors. Which is a testament to their professionalism as the two activists stormed the stage one hurling powder and the other holding a large banner spread with both arms in front of his crest and covering his face.
The sign read "Restore Wastelands" in Swedish but onlookers barely had time to read it as a crane with a large camera at the end of it swopped in and leveled the sign holding protestor. The original viral video showed the incident from off stage but later Återställ Våtmarker posted the video from the camera who struck the protestor on their Twitter feed.   
This incident is part of what seems to be a coordinated global civil disruption campaign by climate-obsessed activists. Videos have been circulating from roads all across Europe with activists sitting in front of traffic, cementing themselves to the road or chaining themselves together. A recent video showed a frustrated motorist trying to move the activists off the road so he could get to work himself be arrested by police while the protestors were allowed to stop traffic.
Some of the more controversial acts show these 'climate warriors' throwing paint on art exhibits, vandalizing museums and walking into grocery stores to open and dump milk on the floor. A group recently poured a diluted charcoal compound into the Trevi Fountain in Rome. The mayor of Rome said he hopes no permanent damage was done, but it will be an expensive and time consuming repair, he added attacks on monuments should not be targeted by activists with grievances.
Copyright 2023, Daily360.com