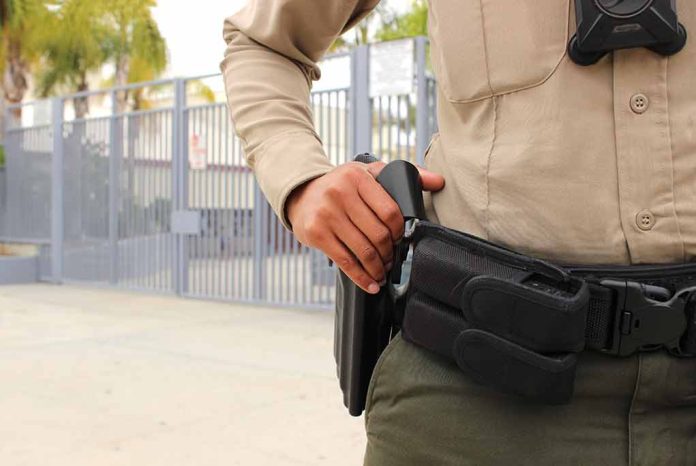 (Daily360.com) – Police dashboard camera footage from a 2018 car accident involving Nadine Arslanian, the wife of New Jersey Senator Robert Menendez, seemingly shows her being given preferential treatment despite the fact she was responsible for a man's death. The footage shows Arslanian standing outside her vehicle wearing a long fur coat with her legs uncovered, shivering on the cold December night speaking with police officers. The officers responded to the scene of the fatal accident within minutes but the initial call was not made by Arslanian. It's reported that when she did eventually call 911, the operator told her police were already on their way.
Arslanian is alleged to have been driving her Mercedes down a street in Bogota, New Jersey, when she struck pedestrian Richard Koop and sent his body flying through the air, after which she crashed into a parked car. On the video the responding officer asks Arslanian if he can look at her cell phone and she refuses his request. She informed the officer she was going to use her phone to call someone to help her.
Some speculate she may have called her now-husband, Bob Menendez, whom she was dating at the time of the crash but she was also seeing attorney Douglas Anton, so it is unclear who it was she called. Arslanian told the officer that she "didn't do anything wrong" and also said Koop "jumped" onto her windshield. Shortly after making these comments associates of Arslanian arrived and stood out of the dashcam view.
One man can be heard identifying himself to the officer as a retired Hackensack police officer and says that he doesn't personally know Arslanian, but he was asked by his "buddy" to see to the matter on his behalf. That man turned out to be retired Hackensack Police Director Michael Mordaga. After chatting with Mordaga, the officer on the scene let Arslanian collect her belongings from the wrecked Mercedes and leave the scene without any DUI testing or any further questions. The resident whose parked car she crashed into was stunned and asked the officer "'that woman is just allowed to leave? She's not being arrested or anything?'"
Arslanian, Menendez and three other individuals have recently been indicted on charges of bribery for which they allegedly accepted almost $500,000 in cash, gold bullion and even a Mercedes to replace the one Arslanian crashed. Arslanian and Menendez are additionally alleged to have received a trip to Paris, multiple private jet flights and elegant vacations at a private villa in the Dominican Republic. Menendez disputes the charges and has defied multiple calls from both sides of the political aisle to resign.
Copyright 2023, Daily360.com