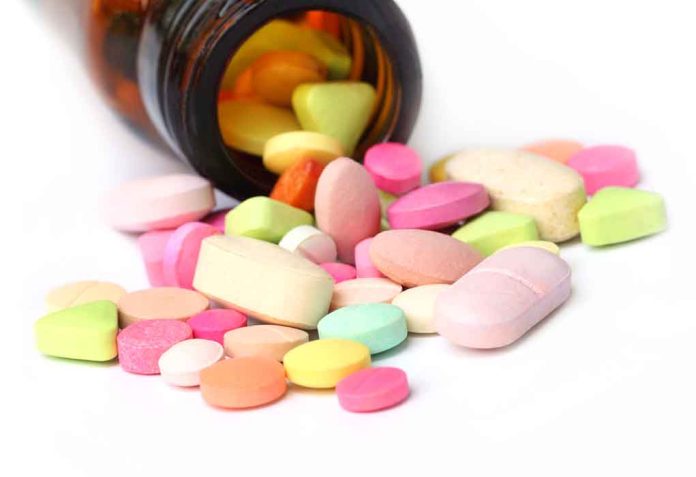 This "Rainbow" Drug Is The Most Deadly Yet
(Daily360.com) – The CDC reports that more than 150 people in America die every day from overdoses of synthetic opioids, like fentanyl. Illegal drug manufacturers often add the deadly narcotic to other illicit substances because it's cheap and addictive. Recently, officials noticed a new trend hitting the market, attracting a whole new crop of customers — "rainbow fentanyl."
On September 3, border patrol agents at Port of Nogales, Arizona, seized about 47,000 candy-colored fentanyl pills in a bust of over 200,000 tablets from one vehicle. The discovery also included 6.5 pounds of methamphetamine and 186,000 standard blue pills.
On 9/3, CBP Officers at the Nogales POE seized:
Approx. 47,000 rainbow-colored fentanyl pills, 186,000 blue fentanyl pills, and 6.5 pounds of meth hidden in a floor compartment of a vehicle.
Also on 9/3, CBP officers seized 84 lbs. of meth concealed in the gas tank of a vehicle. pic.twitter.com/9AyjgRYMxJ

— Port Director Michael W. Humphries (@CBPPortDirNOG) September 6, 2022
In August, the Drug Enforcement Administration (DEA) reported finding the rainbow version in 18 states across the US. DEA Administrator Anne Milgram concluded those particular pills are marketed to "kids and young adults," who might find their appearance more attractive. The official blamed Mexican cartels for the majority of the deadly drug entering the United States, mainly through the Jalisco New Generation Cartel and the Sinaloa Cartel.
According to the DEA, more people between 18 and 45 die from drug poisonings than from any other cause. Street names for fentanyl include Apache, Jackpot, Murder 8, Dance Fever, and Tango & Cash. Users can't tell if a substance contains the synthetic opioid without a targeted test strip.
Copyright 2022, Daily360.com