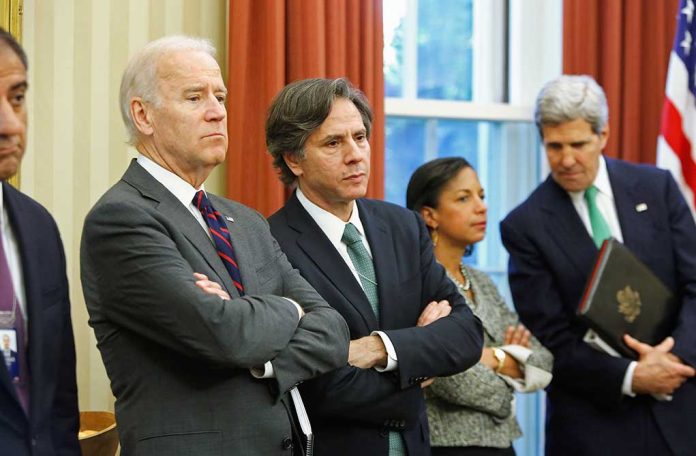 (Daily360.com) – Joe Biden is steadfast in his position not to speak with House Speaker Kevin McCarthy regarding the looming debt ceiling issue. Biden and McCarthy met back in February with the Speaker saying they agreed to "continue the conversation." Well, it would seem Biden didn't mean that, forgot it and changed his mind. When questioned as to why the president is reluctant to meet, the administration does not give a clear answer. Karine Jean-Pierre, the White House press secretary puts the blame on Congress demanding they "do their job" and give Biden his desired raise as it's their "constitutional duty" to do so.
For their part the GOP wants to discuss cutting aspects of the budget to which the Biden Administration refuses to discuss, nor will they discuss curtailing government spending increases. Jean-Pierre was also asked about Biden's willingness to default by not meeting. She squarely placed blame on the GOP and tried to insult McCarthy by referring to his position as that of the "MAGA wing of the Republican party" saying they are choosing to hold the economy hostage. McCarthy is looking to cut about $4.5 trillion over the coming decade and give a one-year extension on the debt limit. Biden, while not discussing the plan has promised to veto it.    
Not everyone within Biden's party agrees with his stern position. Senator Joe Manchin (D-WV) is urging the Democrat president to meet with the Speaker. Manchin described Biden as playing "Russian roulette" with the economy which he says is dangerous. Manchin is a blue senator representing a very red state and was the final vote to pass Biden's "Inflation Reduction Act" (IRA) for which he's being feeling some heat lately. He's promoting meeting over the debt ceiling while also trying to distance himself from the IRA he made sure was passed, even going so far as to say he'd possibly be in favor of potentially repealing Biden's signature legislation. 
Copyright 2023, Daily360.com