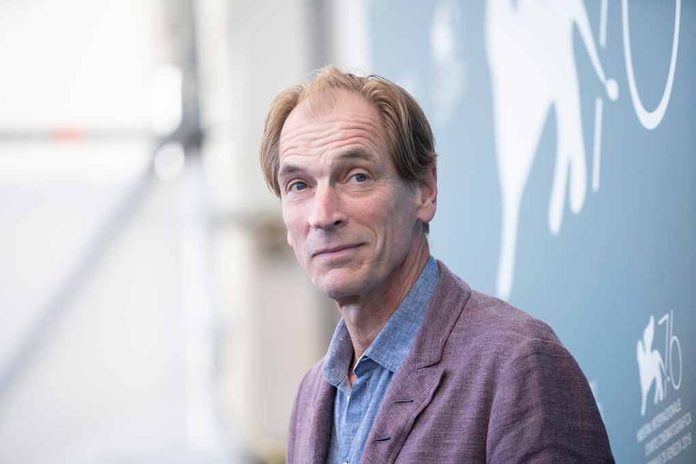 (Daily360.com) – The mystery surrounding the January disappearance of British actor Julian Sands came to a sad end earlier this week. Sands, an avid hiker went out for brisk winter hike in the San Gabriel mountains on the morning of January 13th and was never seen again. The sheriff's department of San Bernardino had been searching the areas on the mountain where they suspected Sands may have been but inclement weather hampered their efforts. The weather left them unable to search for long periods of time. After an unfruitful five months and a recent 80-person search effort, last week the department announced they would be scaling back search efforts. Sands' family thanked everyone for their efforts and said they were "deeply grateful" to everyone involved and will remember Julian "in our hearts." 
Only days after this statement hikers happened across human remains which were then transported to the local coroner and were identified as the missing actor. Sands was 65 years old at the time of his death and had been a constant in the entertainment industry for about 40 years. Long-time friend, actor John Malkovich said he will miss his friend of over 40 years, remarking that Julian was beloved, clever, "so, so funny" and wonderful story teller.  
Julian Sands first major film role was portraying journalist Jon Swain in the 1984 Oscar winning film "The Killing Fields" with his friend Malkovich. He cemented his place in the industry starring opposite Helena Bonham-Carter in 1986's "A Room With a View." Sands was also known to seek out avant-garde parts some of which include his evil turn as the title charter in the movie "Warlock," a bizarre alien in "Naked Lunch," the sinister surgeon who performed amputations in the controversial film "Boxing Helena," the spider-collecting scientist in "Arachnophobia" and the violent Eastern-European pimp to Elizabeth Shue's character in the Oscar winning "Leaving Las Vegas." Julian Sands is survived by his wife Evgenia and three children.  
Copyright 2023, Daily360.com