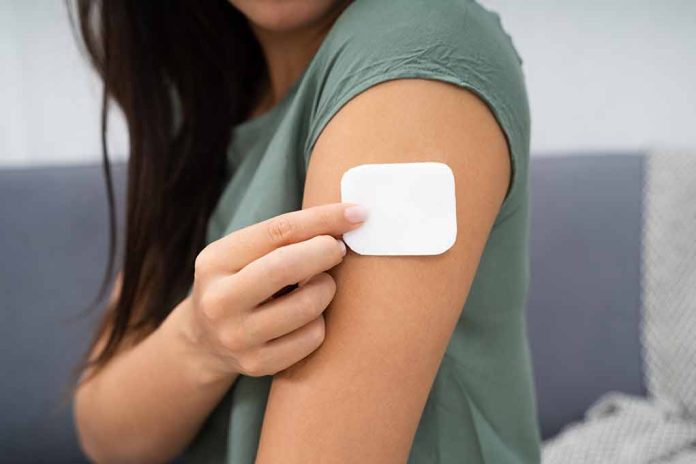 (Daily360.com) – Meghan Markle was recently spotted wearing something called a "NuCalm" sticker on her wrist which led people wonder what that is. A writer for "The Guardian" website named Alaina Demopoulos scoured the NuCalm official site and felt that besides a lot of jargon and catch phrases like the "NuCalm experience," it was short of specifics of how this sticker works to combat the wearer's anxiety. 
The company's website say the stickers provide "neuroacoustic technology" which it says will offer the benefit of redirecting the energy or frequencies of the wearer's brain, leading them to an anxiety-free existence.  
Upon receiving her set of stickers to try, Demopoulos describes feeling unimpressed by the product; she wrote that it didn't seem like anything more than a typical sticker from a toy store that one might buy for a child. She even went so far as to cut one in half and found nothing inside of it that would prove the sticker to be anything more than a paper circle. 
The NuCalm website makes the serious claim that by using this product a person can "change their mental state" without the need of drugs. However, there's more to the story of these little stickers. NuCalm says that one should download their device app, wear an eye mask, and listen to the soothing music they provide while wearing the sticker to get the full benefit.
Additionally, their site boasts of an FDA-approved device used to help with anxiety, but that is not this product. That product was the prior version of an anxiety reliever that sent actual electrical signals into the wearer. Experts in the field say to expect a 'Xanax-grade paper sticker' is likely a stretch. Demopoulos says that as someone who suffers from anxiety issues, she believes NuCalm may be preying on vulnerable people looking for help. Demopoulos also spoke with a doctor who reportedly ran a study for NuCalm but said the sample size was too small and not worth printing at only 12 people. Moreover, the test was on the prior device which sent electrical signals out. Demopoulos was left largely unconvinced that the blue and white circular stickers with the series of curved patterns printed on it offer any benefits at all.
Copyright 2023, Daily360.com