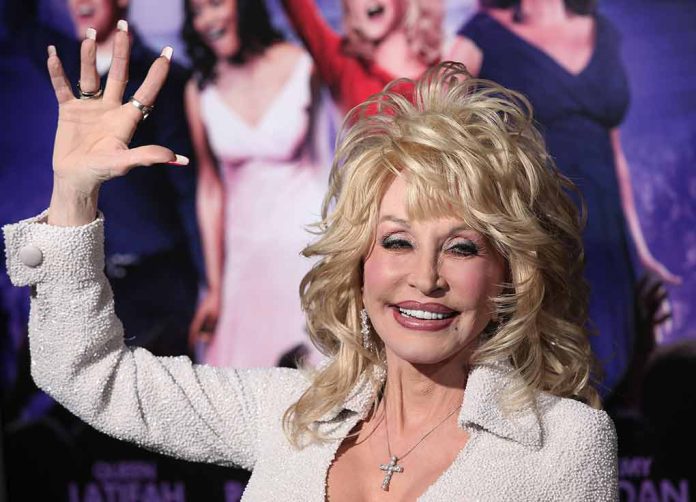 (Daily360.com) – Dolly Parton is a member of the "Rock & Roll Hall of Fame" but said she found that odd as she's never recorded a 'Rock n' Roll' song. Well, the 77-year-old icon will soon be releasing a Rock music album. 
Dolly Parton has written and performed a number of hit country songs, one of her most famous "I Will Always Love You," was covered by Whitney Houston for her film "The Bodyguard." Houston's version was a massive hit in 1992, reaching number one on the Billboard chart for an amazing 14-straight weeks. Well, now it's Parton's turn to do some cover songs and she has enlisted a cadre of fellow Hall of Famers to make this album called "Rockstar" one to remember.
Perhaps most impressive is the super group she put together for her version of the Beatles hit "Let It Be." She got "Baby, I love Your Way" singer Peter Frampton to play guitar, Fleetwood Mac founding member Mick Fleetwood playing percussion,  and both surviving Beatles, Paul McCartney playing piano and Ringo Starr on the drums. Parton posted to Instagram her appreciation to McCartney as the writer of the song to play it with her. McCartney responded with his appreciation for her choosing his song and saying that he loved her version.       
"Rockstar" will be released this fall and will feature 30 tracks and multiple collaborations. A few of which include "Every Breath You Take" with Sting, "Magic Man" with Ann Wilson, "Either Of" with Kid Rock, "Open Arms" with Steve Perry, "I Hate Myself for Loving You" with Joan Jett, "Heart of Glass" with Debbie Harry, "Wrecking Ball" with Miley Cyrus, "Stairway to Heaven" with Lizzo, "Heartbreaker" with Pat Benatar and "Bygones" with Rob Halford and Nikki Sixx. Parton also performed solo versions of "Purple Rain" and "We are the Champions/We Will Rock You."  
Parton said she's dedicating the album to her husband of 57 years Carl Dean, who she describes as a "big hard rock 'n' roll fan." Look for "Rockstar" to be available on November 17, 2023. 
Copyright 2023, Daily360.com