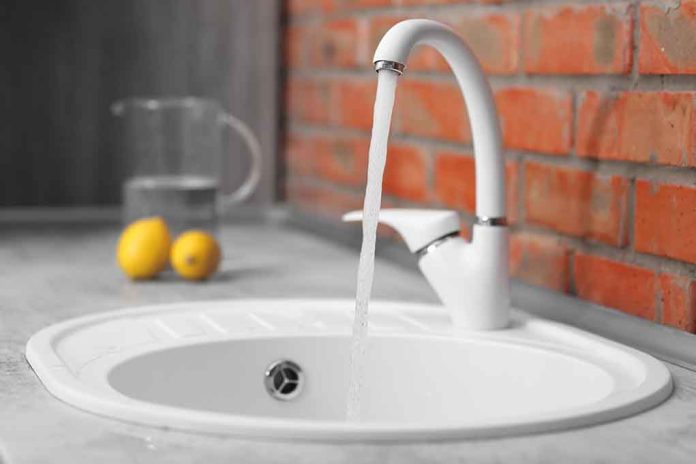 City Water INFECTED – Dangerous Find Reported
(Daily360.com) – The Department of Public Works (DPW) in Baltimore City, Maryland, regularly checks the water supply for contaminants that might affect its residents. Recently, tests revealed the presence of E.coli, which presents a significant risk to the public.
DPW Actions
On September 5, the DPW released a Required Boil Water Advisory (BWA) in response, warning individuals and businesses in parts of West Baltimore and other areas of the city after tests detected the bacteria. The order impacts any water that residents are using for drinking, food preparation, washing dishes, brushing teeth, hydrating pets, or any other means that could cause ingestion.
The agency also reminded people and businesses in the region to throw away pre-made ice because it may contain the pathogen. The CDC states that during a boil advisory, handwashing from the tap is okay, as is showering and laundering clothes. Using it to care for plants is fine as well.
The DPW announced it would distribute water to residents affected by the advisory. People and businesses can track the distributions and receive updates from the department through social media channels. Authorities added that East and Southeast Baltimore have been unaffected by the bacterium. Howard County lifted its pre-emptive advisory on September 6. However, Baltimore City's remained in place.
While the BWA is in effect, the agency is working to find the source of the contamination, fix it, and flush the system. It will also add more chlorination to the resource and look for leaks or faulty valves.
The department stated it would notify those affected when the advisory is lifted. In the meantime, residents should be diligent with the boiling routine to stay safe.
Details About the Bacteria and Illness
Several types of Escherichia coli, or E. coli, bacteria live inside animal and human intestines. While some strains are essential to the digestive system, others can cause illness when ingested. Symptoms develop about a week after exposure and can include diarrhea, fever, vomiting, and cramps, with infections ranging from mild to severe. It can even cause kidney failure and death in some cases.
According to the Mayo Clinic, most people deal with the symptoms of infection on their own with rest and fluids. Anyone experiencing serious or prolonged symptoms should seek medical attention.
Mississippi Water Crisis
The news about the E. coli in Baltimore's water came days after storms caused a water crisis in Jackson, Mississippi. The area experienced flooding that was so severe it overwhelmed the aging water treatment facility. Water was restored in the area, but the underlying problem has not been fixed. Some of the pipes in the city are more than 100 years old, and estimates put the cost to repair the system at more than a billion dollars.
Copyright 2022, Daily360.com