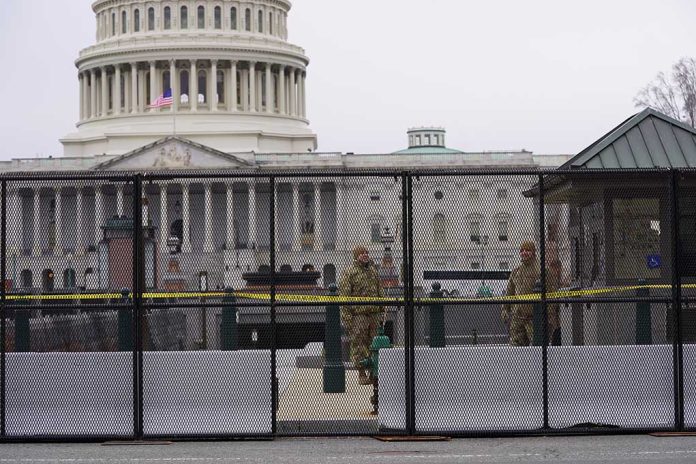 (Daily360.com) – Security officials erected a seven-foot security fence around the US Capitol to protect the building and its inhabitants after the events of January 6, 2021, intending to keep the fence in place for at least 30 days. The measure, securely in place for President Joe Biden's inauguration, remained through March of that year. The US Capitol Police Board erected the fence again on February 6 to secure the area in preparation for the president's State of the Union (SOTU) address. Some were unhappy to see the security move, while others used it to criticize Biden.
Reasoning and Reactions
According to POLITICO, the three-member Capitol Police Board recently met to discuss whether it was necessary to reinstall the fencing. Two of the three members voted in favor, while the third, House Sergeant-at-Arms William McFarland, opposed the measure. Sources close to the matter said McFarland wasn't aware of any "actionable intelligence" to justify the fence.
Representative Eleanor Holmes Norton (D-DC) said the perimeter structure was not only a big "inconvenience" but also a reminder of the January 6 riots and all that transpired that day. Still, the DC legislator admitted there would be situations that warrant using fencing, and the SOTU could qualify as one of those times.
Representative Marjorie Taylor Greene (R-GA) also weighed in on the matter, writing on Twitter that even Biden knows "walls work on the ground" — an obvious dig at the president for halting the wall construction at the southern border. The Georgia lawmaker claimed Biden was more afraid of US citizens than the Chinese spy balloon that recently floated over the US — another slam on the Commander-in-Chief.
The fence is back up around the Capitol for SOTU because Biden knows walls work on the ground.

Joe Biden is more afraid of Americans visiting their Capitol than a Chinese Spy Balloon invading our air space that could have carried God only knows what. pic.twitter.com/PPFiADWP4W

— Rep. Marjorie Taylor Greene🇺🇸 (@RepMTG) February 6, 2023
One local mother of two, Denise Krepp, told CBS News she worries about what message the presence of the fence sends to her young children. She doesn't want them to think "something is wrong" with the US, requiring a barricade.
Statement and New Normal
The Capitol Police issued a brief statement to news outlets about the increased security measure, stating they were simply acting out of an "abundance of caution" to keep the president and those in attendance at the SOTU safe, noting it was only temporary.
The fencing has appeared a few other times since January 2021, when Capitol police and other officials deemed it necessary. Norton believes its presence continues to erode the trust between the government and everyday Americans. The lawmaker told CBS News she plans to introduce legislation prohibiting fencing from becoming a permanent structure.
Copyright 2023, Daily360.com