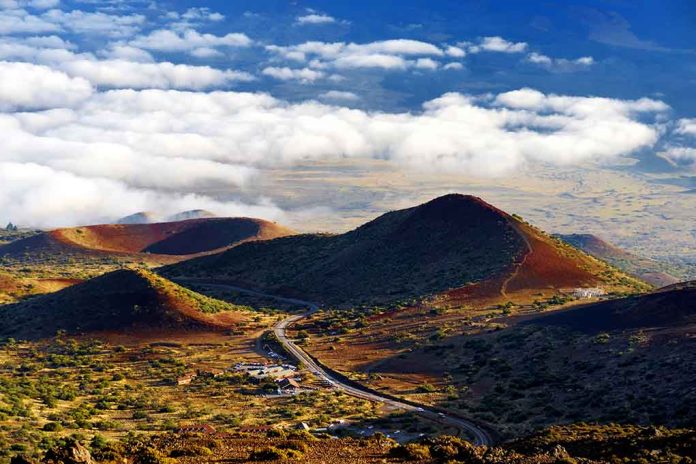 After Nearly 40 Years, the World's Largest Active Volcano Erupts
(Daily360.com) – Mauna Loa is a volcano located near the center of the island of Hawai'i. The United States Geological Survey (USGS) lists it as the world's largest active volcano, as it stretches out about 74 miles from its peak, covering half of the island. Mauna Loa, which means long mountain, has erupted 33 times since 1843 but hasn't spewed lava since 1984 — until recently.
On November 27, the seemingly dormant volcano erupted once again in the middle of the night, sending "ash and debris" flying into the air and covering the land nearby. The USGS reported there is lava flow in the summit region and is restricted there for now, but experts are keeping a special eye on the volcano's rift zones for the possible emergence of magma.
BREAKING: World's largest active volcano Mauna Loa has started to erupt in Hawaii for the first time since 1984 pic.twitter.com/BkVgGyehem

— Insider Paper (@TheInsiderPaper) November 28, 2022
There are about 200 active volcanoes located within the United States, and in the 80s, there were two major eruptions: Mauna Loa in 1984 and Mount St. Helens in 1980. The latter caused a sudden landslide, killing about 57 people, and the former continually erupted for 20 days, but there was no loss of life.
During this instance, the USGS issued a warning to those at risk of lava flows to review their preparations, and officials are prompting residents to stay alert. The National Weather Service initially reported sections of Hawai'i were "under an ashfall advisory" but has since lifted the forecast.
Experts are watching Mauna Loa closely to see if the lava flows will remain where they are or expand outside the caldera walls and down the slope of the mountain.
Copyright 2022, Daily360.com