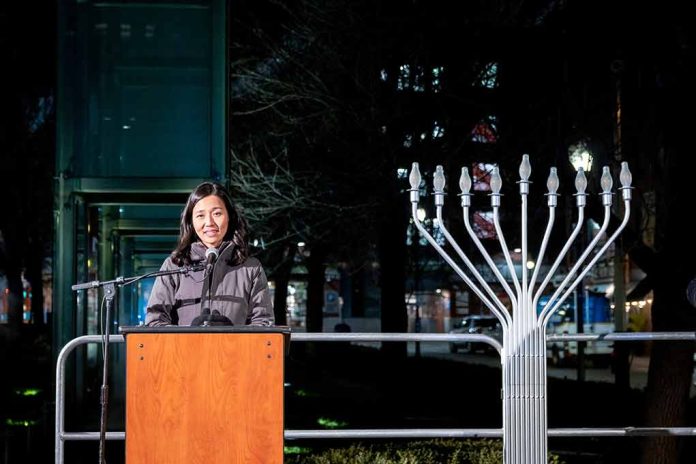 (Daily360.com) – Mayor Michelle Wu of Boston is proposing to expand her Tuition-Free College Plan, which would have funds directed toward three years of community college for illegal aliens. The Democrat Mayor is no stranger to making waves; in early February she announced the formation of a Reparations Task Force which is set to look into paying black residents of the city tax money for racial grievances. In 2022 the mayor made remarks at an event disparaging white people primarily firefighters, which she tried to play off as a joke. She's also been accused of discriminating against restaurant owners who are white. The restaurateurs filed a lawsuit alleging the mayor had specifically targeted them for fines due to their neighborhood and Italian heritage. Their claim cites another 'joke' the mayor told at a St. Patrick's Day Parade, the punch line calling white people expensive and disruptive. The case was initially dismissed but has been refilled. Wu has become increasingly unpopular and a rash of protests about her leadership had her pushing for a law to stop any protests at her home during non-work hours.
As for the state-funded tuition for illegal aliens, Wu announced the city will be partnering with "immigrant-serving organizations" to help illegals get access to the program and funds. The initial investment Wu has pledged is $4 million, $ 3 million of which will come from the federal American Rescue Plan Act. The other $ 1 million will come from funding secured by the far-left squad member, Congresswoman Ayanna Pressley, through the Community Project Funding program.
Kenzie Bok the City Councilor who is chair of the Council's Committee on Boston's pandemic recovery claims spending these rescue funds for illegal aliens' college tuition is "making a long-term investment" in what she calls Boston's "greatest resource." To qualify one must be a Boston resident, enroll in a participating college for an associate's degree or short-term certificate program and complete Free Application for Federal Student Aid (FAFSA). Undocumented, DACA or those who have TPS are not required to complete FAFSA.
Copyright 2023, Daily360.com