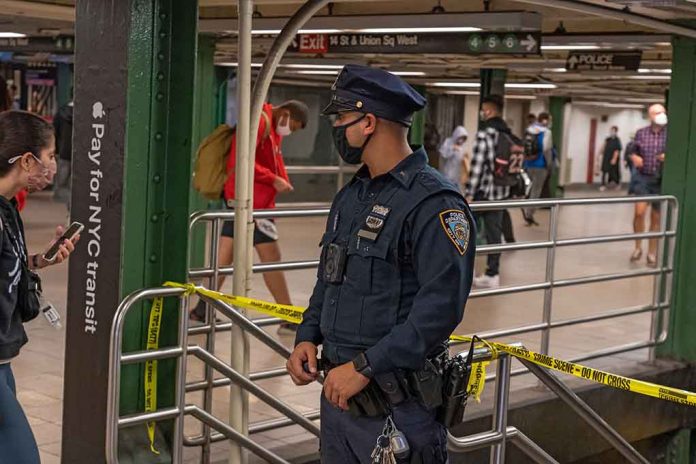 Cop Defender Stabbed to Death on Subway
(Daily360.com) – The subway system is a common and convenient way for New York City residents and tourists to travel around the Big Apple. Yet, the mass transit medium isn't always the safest route. Multiple murders have happened in subways so far this year.
On September 30, 43-year-old Tommy Bailey was riding on the subway near Atlantic Avenue when he and another passenger reportedly got into an argument. According to witnesses at the scene, the father of three was defending a female police officer. The individual harassing the cop allegedly stabbed Bailey in the neck, killing him.
Brooklyn father stabbed to death on NYC subway, slashed in the neck after sticking up for an NYC cop.

Tommy Bailey was a father of 3, a union steelworker, & loved by many.

Here is a link to help his family: https://t.co/XUaMkRB2dU @FoxNews #NYC #Crime pic.twitter.com/UdZTBZkBIc

— Alexis McAdams (@AlexisMcAdamsTV) October 18, 2022
Bailey's friend, Bill Abbate, spoke to reporters about the incident. He said it was a tragedy that violence took his friend from his family, who now have to struggle without him. Abbate thinks it's a "scary" world when you don't even know if you'll make it home from running simple errands or heading to work.
Authorities arrested Alvin Charles, who has a record of violent crime. Police said they detained the suspect in 2021 for reportedly stabbing another person but released him on bail.
Mayor Eric Adams' subway safety plan is cracking down on violence to make it safer for travelers. Unfortunately, felony crimes on the rails are 42% more prevalent than just one year ago.
Copyright 2022, Daily360.com