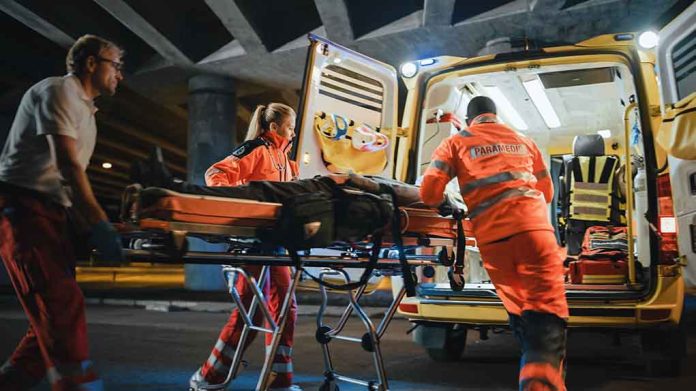 (Daily360.com) – When people call an ambulance or any other emergency service, they're looking for help from those who are qualified to do the job. Sadly, that's not always the case. On December 18, 35-year-old Earl L. Moore Jr. died in the care of paramedics in Illinois. The first responders who responded to the call are now charged with a crime.
On January 10, Sangamon County State's Attorney Dan Wright announced prosecutors charged two first responders with first-degree murder. They were later identified as Peter Cadigan and Peggy Finley. According to the press release, on December 18, 2022, at around 2 a.m., police arrived at the location of Moore. He was hallucinating from possible alcohol withdrawal. Police observed that the man was in need of medical care, so the officers called for an ambulance.
When the ambulance arrived, the two paramedics helped walk Moore out to the vehicle for transport. Prosecutors allege body-cam footage shows them strap Moore to the stretcher in the face-down (prone) position. The Springfield Police Department was later notified the man had died.
Sangamon County Coroner Jim Allmon's report indicated Moore's official cause of death was "compressional and positional asphyxia," which was caused by being placed in a prone position and strapped down.
Ill. Paramedics Were Called to Save Man's Life. Now They're Charged with Murder https://t.co/yXLatwzn1i

— People (@people) January 11, 2023
The police at the scene didn't question the treatment, as they trusted the EMS workers knew what they were doing. In his press release, Scarlette noted the department was saddened by the "unnecessary loss of life."
Moore's family has now hired famed civil rights attorney Benjamin Crump. He is known for his work on the high-profile cases of Trayvon Martin, George Floyd, Breonna Taylor, and others. WCIA reported Crump stated Moore did not receive "compassion nor care in his last moments" when LifeStar employees strapped him to the stretcher face down.
Both of the suspects are behind bars on a bond of $1 million each. If found guilty, they could serve up to 60 years in jail for their crime.
Copyright 2023, Daily360.com