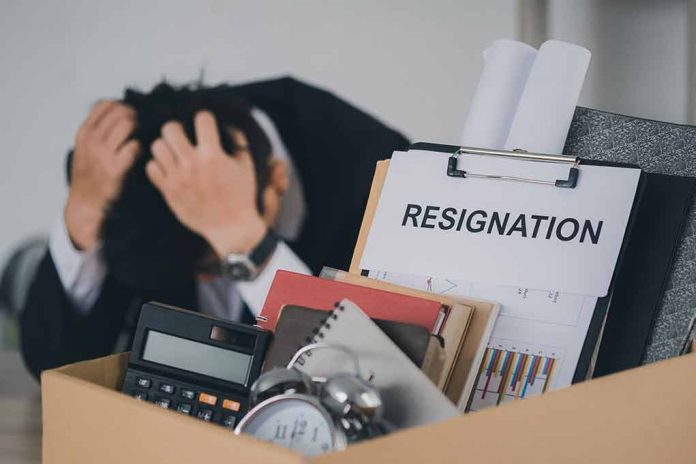 (Daily360.com) – The Tucker Carlson versus Fox News saga keeps taking new and interesting turns. Now, it seems Tucker's former co-workers are abandoning the Fox News flag ship to make their way over to Tucker's upstart show. 
Recently, a Fox News chyron, which are the brief synopsis words displayed under video footage, caused a heated reaction at Fox headquarters. The chyron read "wanna be dictator" in reference to President Joe Biden and what many see as his desire to have his chief rival, Donald Trump, out of the competition for the presidency in 2024. Both media outlets and Biden administration officials claimed the words  were offensive and out of order. 
The man who was responsible for the text,  a ten-year Fox News producer named Alexander McCaskill, was reprimanded and shortly thereafter resigned. McCaskill, who is said to be one of the "most capable" people at Fox News, was told to leave immediately and not work the customary two weeks before departure. 
McCaskill joins senior editorial producer Thomas Fox who also recently exited the network. Both are said to be joining up with Tucker Carlson for his new social media content enterprise. Rumors are that as many as nine former Fox News employees have found a way to exit the network and are set to rejoin Carlson, according to tweets posted by Carlson's friend and biographer Chadwick Moore. 
Carlson's fourth episode upload to Twitter took direct aim at this issue, sarcastically showing all the ways Carlson sees Joe Biden is in-fact a 'wannabe dictator' during  13-minute monologue. The watch numbers for each episode of Tucker's Twitter content are magnitudes higher than his Fox News viewership was. 
In an effort to ascertain the real watch count, analytics firm Tubular Labs applied their formula to derive 26 million views for the first episode, 13 million for the second, and about 19 million for the third. Even if these lower numbers are more accurate than the raw total displayed on Twitter, they would dwarf the Fox News viewer numbers which averaged 4.3 million per night.  
Copyright 2023, Daily360.com