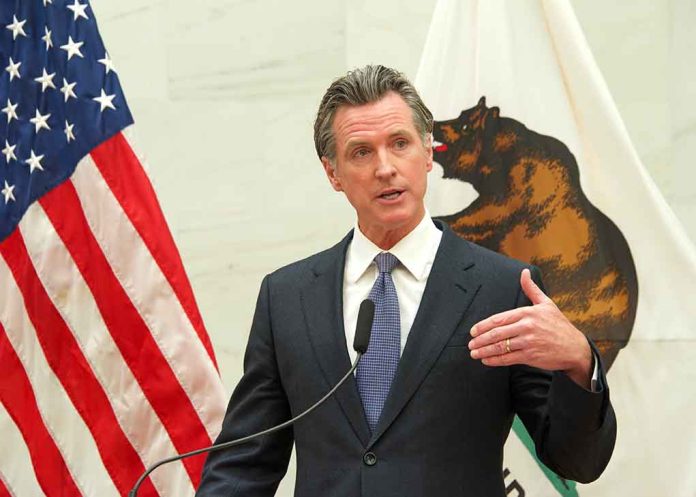 (Daily360.com) – With his state losing population in droves Gavin Newsom is launching an initiative and spending tax revenue to combat one of California's biggest issues. His solution to mass homelessness is "tiny homes." Otherwise known as condensed living enclosures these small spaces will have electricity and some conveniences but will not have plumbing or running water. The potential Democrat presidential candidate will be spending $30,000,000 for 1,200 such tiny homes. Four California cities are targeted to have their current ever-growing homeless encampment sites replaced by these tiny home villages.
Newsom became governor of California in 2019 and has since spent roughly $22.3 billion on the ever-enlarging homelessness crisis. About one-third of all homeless Americans reside in California. He describes his tiny home plan as a way to bring humanity and precision to people currently dwelling in encampments.
The courts have limited options for communities dealing with this problem as Federal judges have ruled if cities plan to remove encampments they may only do so if they offer alternative sheltering options. Newsom boasts that his plan is not about hiding the problem or "kicking people off the street" and claiming victory. He says in other parts of the world the issue has been dealt with by providing alternative housing.
Of the four cities receiving homes Los Angeles will get the most at 500, followed by Sacramento at 300, San Jose at 200, and San Diego at 150. The state will purchase the homes but after that, each city will be charged with their maintenance and long-term success.
For some perspective on the issue versus this solution, Bob Erlenbusch, executive director for the Sacramento Regional Coalition to End Homelessness, called this initiative a "modest step forward." He pointed out these homes will shelter at most about 10% of the homeless currently in his city. He said he'd hoped state officials would take a broader solution view rather than what he terms a "10% solution."
Copyright 2023, Daily360.com