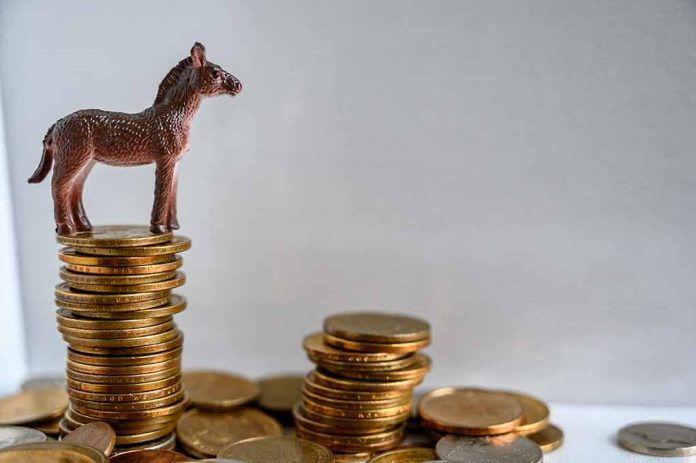 (Daily360.com) – The District Attorney of Fulton County, Georgia, Fani Willis, fresh off her indictments of former President Donald Trump and 18 of his colleagues and lawyers, has begun fund-raising for her re-election. Willis indicted the 19 people using the Racketeer Influenced and Corrupt Organizations Act of 1970. The act, which is better known as RICO, is typically used to bring down mafia or other crime related large-scale enterprises. 
Willis lodged 41 counts against Donald Trump, one of which was a tweet he sent urging people to watch the OANN news channel which was covering a potential voter fraud procedure. Many legal scholars, including the likes of Alan Dershowitz, say this case is biased, bordering on absurd, and should never have been brought. Others label it clear election interference and nothing more than a way to slow Trump down and cost all the defendants their life savings in legal bills.
Willis, who offered no answers for why the indictment was published on the County's official website before the grand jury had finished with witnesses or deliberated, instead celebrated the indictments. Within just a few days of the indictments Willis' campaign sent out emails alerting supporters there is a website where they can contribute to her campaign for re-election as DA. Willis recently bragged to a local news affiliate that her "work is accomplished" and told them the indictments were two-and-a-half-years in the making. 
Regarding the posting of the indictment before the grand jury returned the true bill, GOP presidential rival candidate Vivek Ramaswamy said Trump's legal team should file a motion to dismiss all the cases as his constitution due process rights were violated. Trump took to Truth Social and blasted Willis and her "Witch Hunt," charging Willis with being "out of control" and also questioning how the indictments could be posted the way they before the grand jury deliberated. If he were to be convicted and receive the maximum penalty, Trump could face a combined total sentence of 717.5 years. 
Copyright 2023, Daily360.com