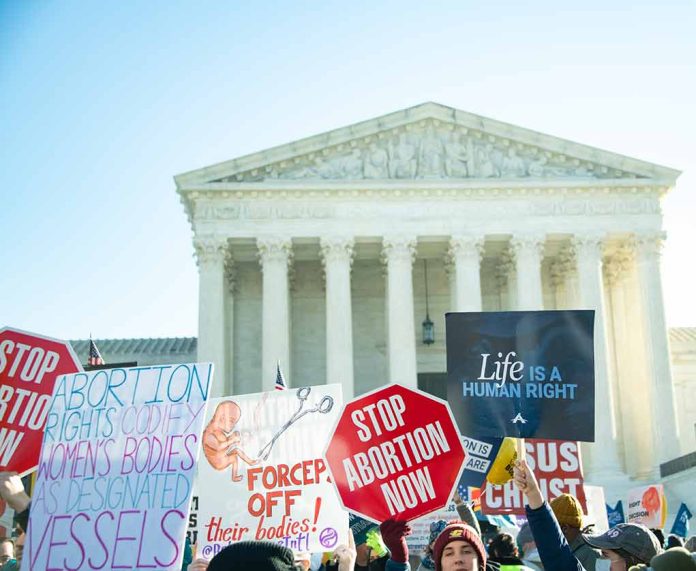 (Daily360.com) – It looks as though the Biden administration might be playing politics between two states regarding the location of Space Command headquarters. However, GOP party leaders in one state are saying 'don't do that even if it means we lose out.' The base is currently located in Colorado Springs, Colorado which was to be its temporary location until its permanent home in Huntsville, Alabama was ready. The time is near for the move but the Biden administration is delaying the process and reconsidering the move possibly based on new strict abortion laws passed in Alabama. Donald Trump chose Huntsville as the location over the recommendations of some in the Air Force chain of command who preferred Colorado. The abortion connection stems from an ongoing issue in the US Senate between Colorado and Alabama representatives. Arkansas Senator Tommy Tuberville is delaying typically routine military promotions over the military's granting leave for abortions nation-wide. Colorado senator Michael Bennet has vowed to clear the promotions despite Tuberville. 
The Colorado Republican party sent a letter to Biden asking him to choose the best location based solely on the "merits and strategic value" even if that were to mean Alabama is chosen. They empathize that the space capabilities of the United States are the paramount issue. Noting that space command is vital to American national security and jeopardizing that to play politics over state laws would not be prudent. They say that if Alabama lost out just because Colorado has "unfettered abortion laws that provide no restrictions whatsoever" that would be the wrong reason. 
Not all Colorado Republicans are on the same page, Congressman Doug Lamborn said he believes abortion will not play any part in the decision. He along with Colorado's senators and others from both sides of the aisle are lobbying to keep the headquarters in Colorado. They are trying to position it as a poor and selfish decision by Donald Trump to select Arkansas while established government and military personnel have long believed Colorado was the better choice. 
Copyright 2023, Daily360.com