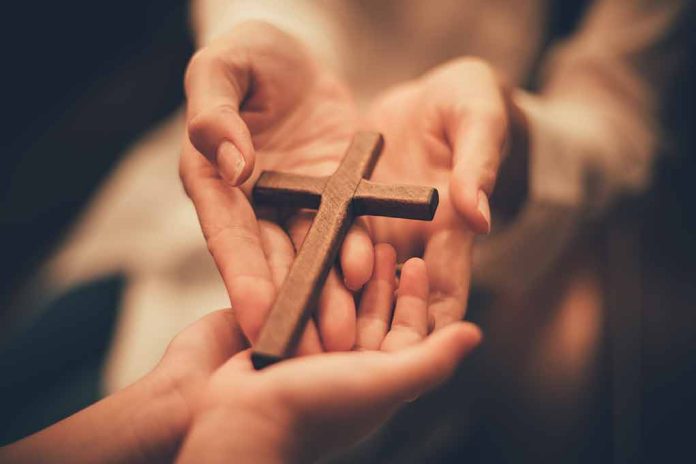 (Daily360.com) – Arkansas Governor Sarah Huckabee Sanders' children drew a pretty impressive stained glass window with a cross emblazoned upon it with chalk on a walkway to the governor's mansion. Huckabee Sanders posted a picture to Instagram of the art with her little artists praising how hard they worked on the piece. 
Naturally, political enemies of the governor were angered and demanded it be removed. A group called Americans United for Separation of Church and State fired off an angry letter demanding the children's drawing be removed immediately.
This group labeled the children's colorful endeavor as divisive. They contend that art depicting Christian imagery especially in front of the governor's mansion sends the message that Christianity is a "favored faith." They seem to assume this means people of other faiths will presuppose they will be "treated differently" by the state government.  They explained to Huckabee Sanders that in their estimation, should the children wish to create such things elsewhere on the mansion's grounds, in a private area, that would be permissible. The entrance they say is a violation of the "Establishment Clause of the U.S. Constitution." 
The governor responded to the letter by saying "no." She further explained she had no intention of wiping away the "beautiful" work her children created neither from the governor's mansion nor from her Instagram account. She informed the organization that she will never hide her Christianity or being "saved by Christ." Huckabee Sanders also stated she believes the organization is wrong about the Establishment Clause being relevant, as nowhere does it state a public official cannot be public about his or her own faith. She points out the founding documents have several references to God. She said Arkansans "stand up to bullying liberals." She wrote that she'd no sooner power wash her children's drawings than she would tear down Christmas decorations or "fear of strongly worded letters coming down from Washington." She wrote the inference that her Christianity makes her a bigot is offensive and she views all citizens equally.
Copyright 2023, Daily360.com