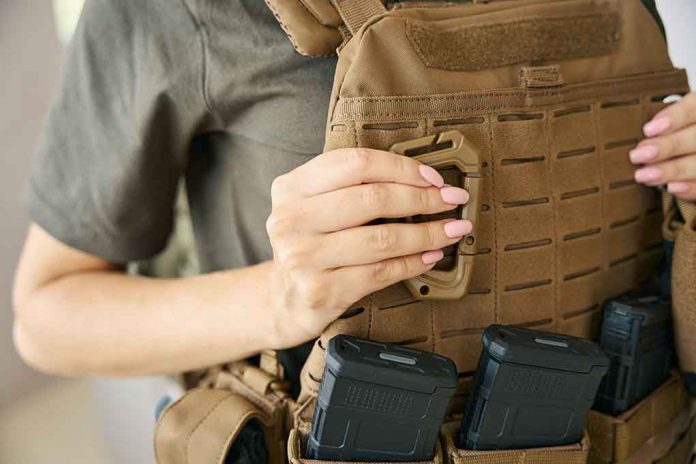 Government Warns Body Armor Might Not Help Female Officers
(Daily360.com) – All levels of law enforcement use body armor to protect them against injuries and death while on duty. The National Institute of Justice (NIJ) believes the gear is an essential piece of equipment for anyone protecting and serving the public. But a recent test showed the current body armor design may pose a danger to women in the field.
Capitol Police reported that FBI tests showed a potentially fatal flaw in the equipment called the "skip effect," according to Just The News. The research revealed when a bullet or other projectile hits the armor in the upper chest of female body armor, it could ricochet up into the officer's neck. Although previously approved by the NIJ, the agency decided to conduct an independent study because law enforcement personnel come in all shapes and sizes.
Capitol Police, FBI uncover new potential deadly risk to female officers from body armor https://t.co/UmSjUj0kIr

— Just the News (@JustTheNews) November 28, 2022
Once the police who protect the nation's capital heard of the defect, officials submitted their own armor for evaluation. The FBI Ballistic Research Facility found it had the same flaw and committed a team to resolve the issue. The Capitol Police Department made it clear, however, that the fault was not that of the manufacturer but simply a new discovery on historically tried and true equipment.
In March, the National Library of Medicine posted a study about the issue of how body armor fits on female soldiers in Australia. The research found it important to tailor the protective equipment to properly fit a woman's figure. Doing so, researchers said, would help with movement, improve performance, and better protect the military members from harm.
Until new developments are made for female law enforcement officers in the US, it's unclear how officials will mitigate the risks to women protecting and serving the public.
Copyright 2022, Daily360.com