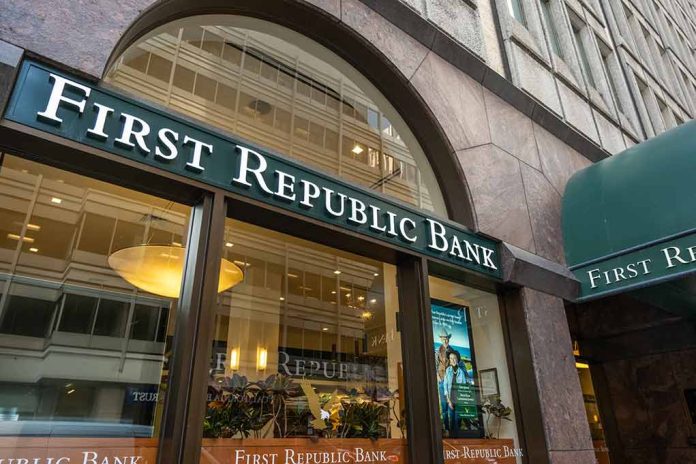 (Daily360.com) – First Republic Bank has joined an ever-enlarging club of banks in collapse. The root of their woes seems to be 'jumbo mortgages' which is a term for mortgages higher than the limits set by the government agencies Fannie May and Freddie Mac. As of 2023 the maximum amount for a standard loan was $726,000 so any loan higher than that would be considered a 'jumbo loan.'
An advantage of a jumbo loan for the buyer is lower interest rates than a traditional mortgage loan. First Republic Bank has been giving this type of loan for decades. While mortgage rates were low they were able to offer these loans to very wealthy clients, however, with the Biden economy, rising inflation and the Federal Reserve hiking rates aggressively beginning in 2022 these loans became a major liability. 
Multi-millionaires holding these loans on their property include investment firm Goldman Sachs president John Waldron and music industry heavyweight Todd Moskiwitz each having jumbo mortgages on Manhattan properties. Silicon Valley Bank's widely publicized collapse and subsequent government guaranteed bailout came about from similar circumstances as rate hikes caused investment valuation decline. 
Digging deeper into the numbers Waldron's loan for his NYC condo at 15 Central Park West was for $11.2 million and ten-year interest period in June of 2020. At that time the going rate was 0.08%, the rate he was given is unclear but it may be assumed to be less than that percentage based on the loan amount. Bloomberg reported many similar loans were taken in Manhattan by other very wealthy buyers.
In 2020 and 2021 alone First Republic gave interest only loans in NYC, San Francisco and Los Angeles in the range of $20 billion enabling customers to profit on their loans as their property values rose. The bank proceeded in the practice as they saw the buyers as low risk due to their wealth. Everything came apart for the lender when valuation of their loans showed the value to be less than what they lent due to the rate hikes. Earlier in the week regulators announced First Republic bank was seized and would now be taken over by JP Morgan.   
Copyright 2023, Daily360.com