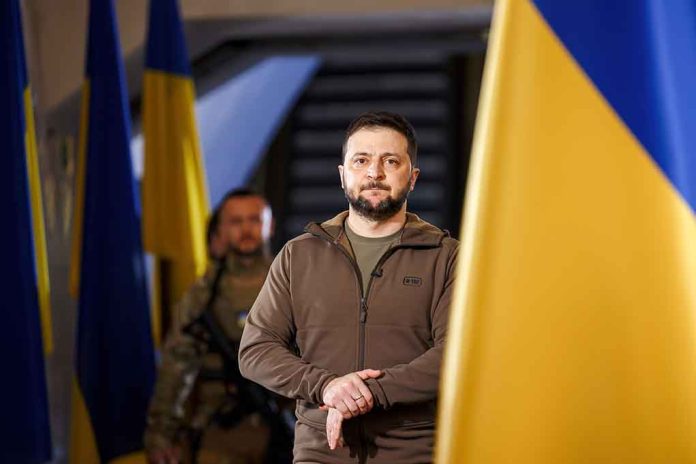 (Daily360.com) – Ukrainian President Volodymyr Zelenskyy this week personally invited House Speaker Kevin McCarthy to visit Ukraine. McCarthy decided to decline the invitation and remain stateside. His predecessor Nancy Pelosi while serving as House Speaker happily accepted her invitation and had a media session in Kiev with Zelenskyy.
It's reasonable to assume Zelenskyy is looking to shore up the Speaker's support as he continues to seek more war aid from the United States. McCarthy has made recent statements about a more restrictive aide process going forward. To date, the aid in both military equipment and finances has flowed with virtually no checks or restrictions. McCarthy endured a grueling vote and negotiation process to become Speaker; having to make assurances to his members about curbing government spending. Prior to that, leading into the November midterm elections McCarthy stated that the "blank check" to Kiev policy would no longer stand.
Many American politicians and media figures have made the trip to Kiev. Joe Biden spent President's Day there delivering remarks, pledging support, and giving more funds. He was followed by Secretary of the Treasury Janet Yellen who did the same and most recently Attorney General Merrick Garland made a trip and likewise pledged total support to the foreign nation. These visits are a bipartisan affair; as other notables who have visited Kiev since the war began and pledged support include, Senators Lindsey Graham, Mitch McConnell, Susan Collins, John Barrasso, and John Cornyn. Actors Sean Penn and Ben Stiller have also made in-kind trips and offered messages of support.
McCarthy broke from his predecessor Pelosi's precedent when he also decided not to visit Taiwan. He had agreed to make a trip to the troubled nation and meet with Taiwanese President Tsai Ing-Wen. They spoke and decided it was best to meet in McCarthy's home state of California. They agreed his presence in Taiwan would potentially draw the ire of the Chinese Communist Party (CCP) as Pelosi's had in August of 2022.
Copyright 2023, Daily360.com