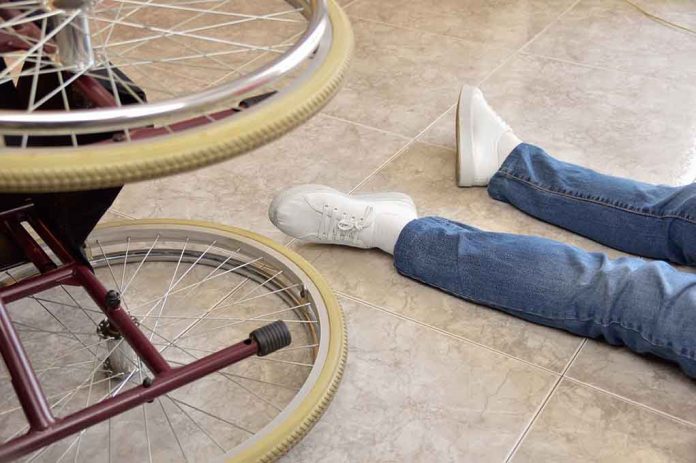 (Daily360.com) – A "jugging" is a term for an emerging crime trend where criminals scout targets who are typically elderly or small in stature. It's a hybrid word created by combining 'mugging' and 'juggling.' The juggling component stems from the fact assailants will watch areas like parking lots or ATM machines and look to see a person juggling their personal items like packages, a cell phone, and other items. With their focus split the attacker can move in on the target and steal what they have.
One such incident took place in Houston in mid-February. A mom of three named Nhung Truong had just withdrawn $4,300 from an ATM for a planned trip home to Vietnam to see family. While she was walking away trying to put the cash in her handbag with her phone in her other hand, 17-year-old Joseph Harrell attacked her. He knocked her down and grabbed her purse, he started to run away but quickly realized he didn't have the money and turned back for it. Truong had at that moment picked up the money. Harrell wrestled with her for a bit before he picked up the much smaller woman and body-slammed her to the ground causing her to drop the cash, which he picked up before running off. The violent assault was captured on video and went viral on social media.
Truong was left with broken ribs, and a fractured spine, and was rendered partially paralyzed. She was hospitalized for over a month while recovering from the assault. Harrell despite being 17 is no stranger to the law, prior to attacking Truong he was released on a $100 bond for carrying an unlawful handgun in January and had another charge of aggravated assault with a deadly weapon in late February after his assault of Truong.
Despite all this, a Harris County judge cut Harrell's $200,000 bond issued on March 17, for the Truong assault in half to $100,000 this week. Harrell's attorney argued his family could not afford that original bond. A GoFundMe for Nhung Truong has thus far raised over $300,000 to assist with her bills and recovery.
Copyright 2023, Daily360.com