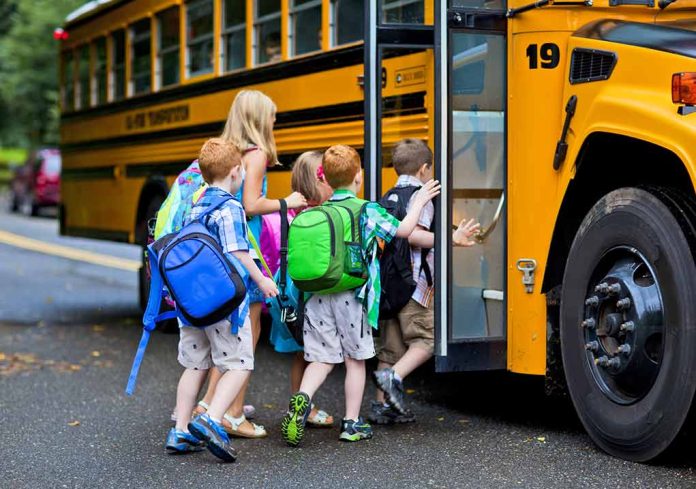 (Daily360.com) – "Angel Family" is the term for a family who has had a member killed in one way or another by an illegal alien. The family of an 11-year old boy who was on the school bus headed to his first day of school in Ohio is now among the growing list of Angel Families. An illegal alien from Haiti called Hermanio Joseph allegedly crashed his minivan into the bus, injuring dozens of children and causing this 11-year-old boy to be ejected from the bus and later succumbing to his injuries.
Joseph is something of a poster boy for the Biden Administration's resurrected "catch and release" policy which was started under the Obama Administration and cancelled by the Trump Administration. Joseph entered the United States illegally and per administration protocol was given a notice to appear in court at a future date and then released into the interior of the nation to do as he pleased. 
It's estimated somewhere around two million illegals have crossed into the country illegally since Biden assumed the presidency. John Fabbricatore, a member of the National Immigration Center for Enforcement advisory board spoke with Breitbart and said the Biden 'welcome and release' agenda puts all American communities at risk. Fabbricatore says it is the Biden agenda to release into the nation as many "poorly vetted" aliens "as possible" usually with no court date follow up. 
Many illegal aliens are given court dates as far as ten years out while many others receive no court dates at all. The sheer volume of illegal aliens in the nation has backlogged the system for many years ahead and there's no end to the migrants in sight. Critics say these policies have incentivized the illegal crime cartels of Mexico to traffic in people and make untold fortunes off of illegal migration into the United States. Ohio senator J.D. Vance offered condolences to the boy's family and said this is something "no family" should have to endure. Services were held on Tuesday evening for the child.
Copyright 2023, Daily360.com