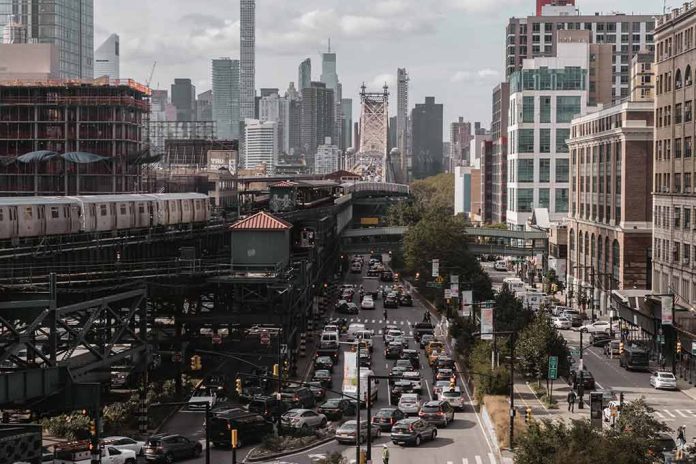 (Daily360.com) – As New York City continues what many see as a descent into something reminiscent of its 1970's less than lawful past, illegal pot shops are popping up with growing frequency. One such example is a makeshift store set up right across the street from state courthouses, the DA's office and borough hall in Queens. The storefront is still emblazoned with a large sign reading "Covid Testing Center" but had been empty for some time.
An employee spoke with the New York Post and told the reporter that business is booming. The employee calling himself Moe said many of his customers are most likely people working in the legal profession based on their clothes. He added that people on the other end of the process come to the store to purchase pot-based products as well, likely as a means of de-stressing.
Moe, whose uncle owns the store and claims to be fully licensed, said the location is perfect because of its proximity to the E and F train stations as well as city bus stops. The store is stocked with "Punch Gunnies," cannabis edibles, a variety of THC-infused products and flowered marijuana. The reporter noted that many of the items for sale at this store were stamped with California markings, making them illegal because in New York as all legal pot shops may only sell items with New York stamps.
In total there are 26 licensed cannabis stores in New York State, 11 of which are in New York City and none are licensed for that particular Queens location. A man, who has been running a newspaper stand in the same general location for 16 years named Alex Najjar, is not thrilled about his new neighbor. He says the proximity of schools and the store's disregard for laws upsets him. He compared the fees he pays to sell cigarettes to them not paying anything to do the same. He said "nobody enforces" laws anymore.
New York Governor Kathy Hochul, has worked with the state legislature to increase the penalties for these illegal shops including fines of up to $10,000 per day through hearings. Tax collectors have been entering the locations and seizing product as well. This follows what is described as a sloppy rollout by NYC mayor Eric Adams that has allowed for upwards of 1,500 illegal cannabis shops, one of which was set up right across from Manhattan's City Hall for a short time.
Copyright 2023, Daily360.com