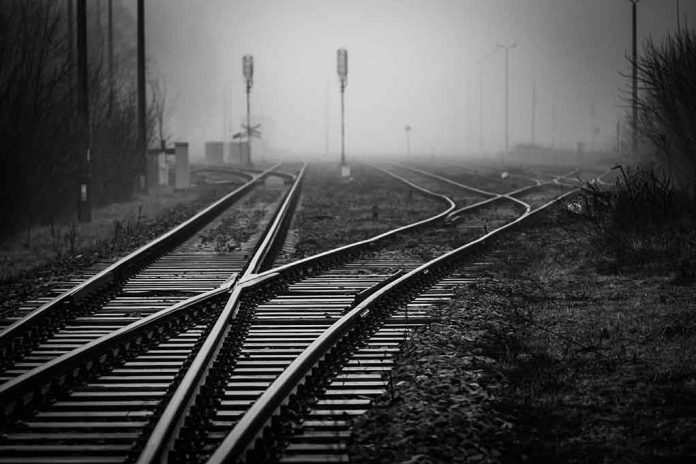 (Daily360.com) – As the citizens of East Palestine continue to sort out the destruction and contamination of their town due to the February 3rd Norfolk Southern train derailment and subsequent intentional toxic chemical burn, Joe Biden does not have any current plans to go and take stock of it himself.
When asked, Biden replied in part "At this moment I am not… I did a whole video… Zoom is that song of my generation, 'Who's Zoomin' Who?'"
The comments were a reference to the 1985 song by Aretha Franklin. Biden conveyed that he's been in contact with local authorities via Zoom computer teleconferencing.
Biden insists his government team is in control and is taking all appropriate steps to deal with the situation. He further stated that they've been on scene from within two hours of the incident.
Former President Donald Trump made an appearance in East Palestine on February 22nd, donating an array of supplies to the locals and condemned the Biden administration's lack of response.
The information has been mixed with some local politicians stating the tap water is safe which is contrasted by locals posting videos of chemicals and contamination in the water.
Pete Buttigieg the Transportation Secretary made it to East Palestine on February 23rd the day after Trump in an attempt to assure everyone that measures are being taken to cleanse the area.
James Comer (R-KY) through his House Committee on Oversight and Accountability launched an investigation into Pete Buttigieg and his department's handling of the East Palestine crash and subsequent burn. The Committee asserts the situation was mismanaged and is not a local Ohio issue but rather "…now threatens Americans across state lines." The full array of released chemicals into the air and surrounding environment is not yet fully known. Locals report strong odors, a wide variety of poor health symptoms and sudden animal deaths since the incident as well. The Republican lawmakers demand transparency on all actions taken by the DOT.
Copyright 2023, Daily360.com