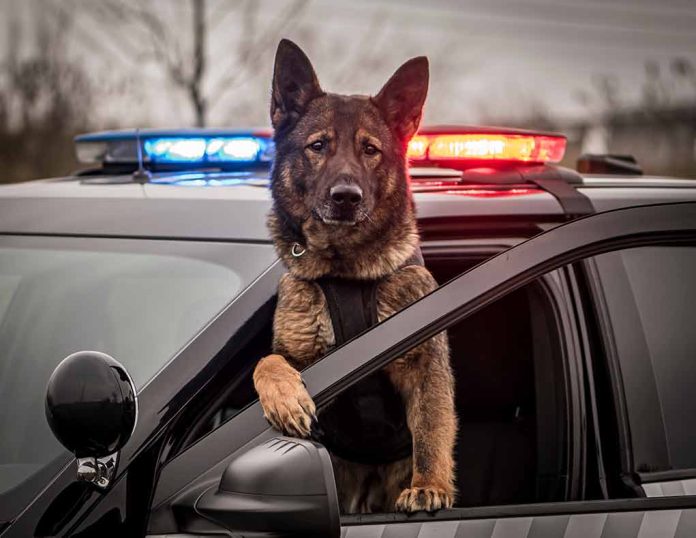 (Daily360.com) – A police canine was injured in the line of duty during a stabbing attack but is on the mend. The incident took place in upstate New York when canine Norbi and his police handler encountered a violent criminal. 
The duo was pursuing a home intruder at around 4 a.m.in the town of Troy. The suspect was a man named Curtis Knockwood who had been a person of interest in a string of recent home intrusions and robberies. When the officer and Norbi encountered the suspect Knockwood in a wooded area the suspect lunged at the animal at which point Norbi bit Knockwood's leg. 
As Norbi, a Belgian Malinois, gripped his leg Knockwood pulled out a knife and proceded to stab the dog more than 20 times. Norbi's harness was penetrated and he received at least 12 stabs to the torso. The human officer attempted to use his Taser gun on Knockwood but it had little effect. 
As the struggle between the three continued two other officers arrived which escalated the matter and one officer had his foot broken in the scrum. Eventually, Knockwood was arrested and taken into custody. After his arrest Knockwood was taken to a local hospital for the bite wound while Norbi was rushed to a veterinary hospital. Thankfully, Norbi was released the same day and was back at his precinct expecting to make a full recovery and return to active duty in short time after some "rest and relaxation" according to Troy police.
Narbi was greeted by his human co-workers with applause and salutations. Officers lined the hall to welcome back their heroic canine companion. A police representatives lauded Norbi and praised the "exceptional skills and dedication" of Norbi and dogs like him. 
Knockwood had a less congratulatory post-incident official ceremony. As he limped into Troy City Court draped in a hospital gown and pled not guilty to charges of felony burglary and misdemeanor injuring of a police animal. He was denied bail and sent to Rensselaer County jail until his next court appearance.   
Copyright 2023, Daily360.com