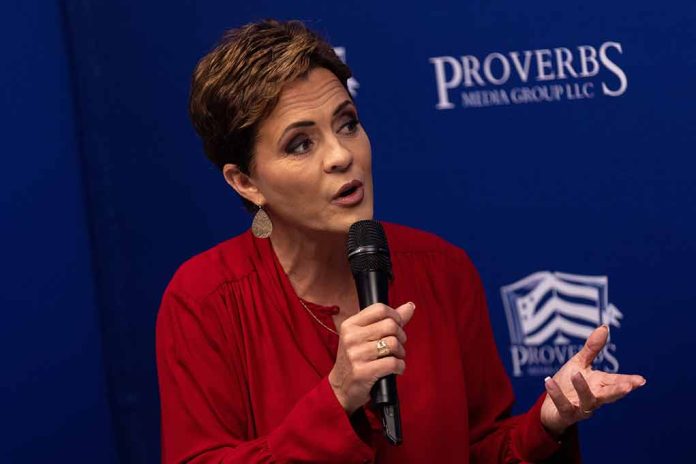 (Daily360.com) – Kari Lake ran for governor or Arizona in 2022 and came up short in a controversial election. Since that time she has raised her national profile to new heights by fighting hard in the court system trying to get the election overturned. 
She's brought to light what she sees as irregularities  with the Arizona voting process and promises to fight on, all the way to the Supreme Court if necessary. Lake has also been a featured speaker at many conservative events.
The former news anchor has a new success to add to her list; hit song maker. Her song "81 million votes my a**" has hit number one on the iTunes music chart. The song takes aim at current president Joe Biden who is purported to have received 81 million votes, the most of any person in election history word-wide but many including Ms. Lake dispute the validity of this number. 
Kari Lake used the line which became the title of the song while addressing the Conservative Political Action Conference (CPAC) dinner in March. She said she was approached by the people who wanted to make a song using her line and at first she was resistant. After thinking about it, Lake said she liked the idea and decided to do it. 
The song is credited to the performers 'Truth Bombers' and the writer Jeffrey Steele. Lines include "If you would have told me two years ago, three years ago, that I would be in the middle of a political movement I'd have said 'put down Hunter's crack pipe,'" referencing Joe Biden's notorious son. Lake said she is taking aim at "the technocrats" as well as tyrannical agendas and what she calls a "B.S. system." Lake tweeted to her over one million followers to download and share the song with everyone, she is proud to sing about "our corrupt elections." 
Copyright 2023, Daily360.com