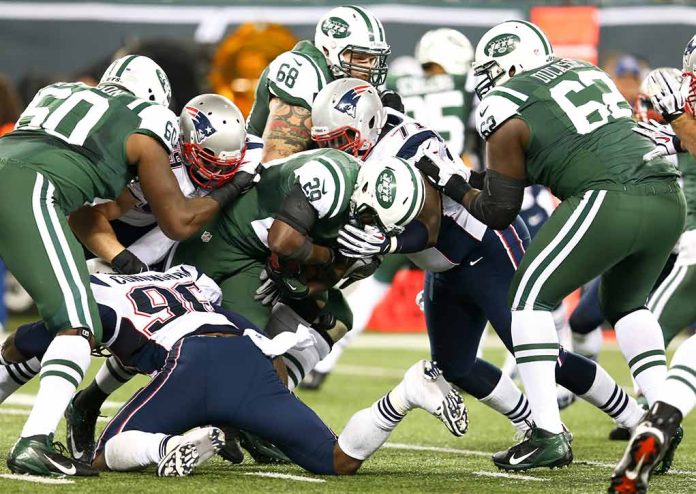 (Daily360.com) – Political commentator Keith Olbermann has become little more than social media troll in recent years. The far-left former ESPN anchor often video records himself yelling at or about people he doesn't like. The extreme close-up videos of Olbermann's face usually draw groans in the replies as much for the visuals as for the insulting commentary.
Olbermann's target this time was New York Jets quarterback Aaron Rodgers. The quarterback had been a media darling ever since his trade from the Green Bay Packers to the New York Jets, and his debut on Monday Night Football was highly anticipated. As the team commemorated 9/11, Rodgers ran onto the field holding the American flag as the crowd erupted. Sadly, Rodgers was injured just three plays into the game. Olbermann, seemingly rooting for a mishap, immediately tweeted "Another #SuddenLisfranc due to failure to vaccinate," followed by six syringe emojis.
Olbermann seemed to take joy in the injury for no other reason that Rodgers has a different position on mandatory Covoid-19 vaccines than Olbermann. Rodgers was known to have declined taking the vaccine, whereas Olbermannn is a big believer in the vaccine and all its boosters. That's all it took for the former MSNBC host-turned podcaster to send the absurd tweet.
As it turns out, Rodgers tore his Achilles tendon which is neither a 'Lisfranc' foot injury nor related to Covid in any way, making Olbermann's tweet as odd as it was insensitive. Olbermann was immediately "ratioed," meaning the replies to the tweet far outpaced its likes and retweets. Most replies were from people calling Olbermann 'terrible' in one form or another. His motivation seems to be 100% political as the two men have not had any public interactions.
Aaron Rodgers will miss the entire 2023 NFL season after playing only three plays for his new team. It's unknown if the 40-year-old quarterback will try and return to the Jets next season. An Achilles injury usually takes about one year of steady rehabilitation to return from.
Copyright 2023, Daily360.com