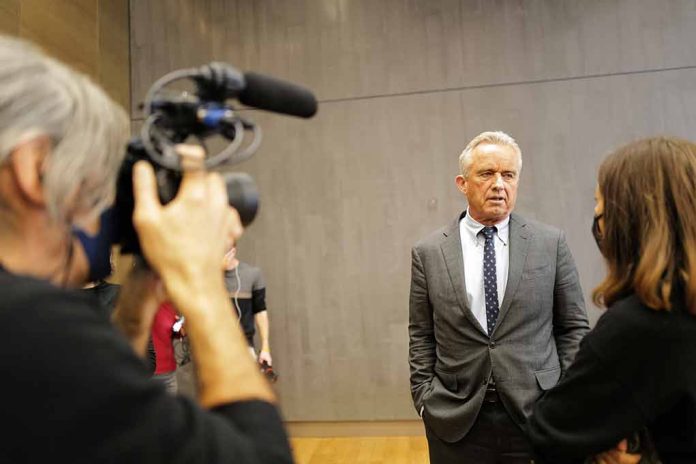 (Daily360.com) – Robert F. Kennedy Jr. has been facing attacks from every angle since he announced his run for the Democrat nomination for president. The media has targeted him as 'extremist' for his views on many things but particularly the Covid-19 virus and vaccine. 
He's even facing ridicule from his family, most recently from his sister Kerry Kennedy. She was speaking at a private event in New York City and was recorded chastising her brother's views on Covid-19, including the alleged idea that RFK claimed the virus was engineered to attack certain races specifically. Kerry Kennedy was responding to comments RFK Jr. made during a recent interview alleging Covid-19 was engineered to target "Caucasians and black people."

RFK noted the objective fact that Ashkenazi Jews and the Chinese are, on average, less genetically susceptible to the virus. Kennedy critics have spun this into the dubious claim that RFK was somehow making a racist or antisemitic claim.
Kerry Kennedy also publicly attacked her brother's claims when she posted to her Twitter account that she "STRONGLY" condemns her brother's "deplorable and untruthful" position on the virus. She did not offer evidence that Covid-19 was not engineered, but does state that her position is Covid-19 was not engineered in this way. 
She attached a link further detailing her break from her brother and that of the Robert F. Kennedy Human Rights Foundation established in memory of their father. She writes that the 50+ year "track record" of that foundation stands against "racism" and discrimination. She does not specifically state in what way RFK Jr.'s statements are "racist."
Kerry Kennedy was the only one in her family to condemn Robert Kennedy, Jr. Their brother, Joseph Kennedy II, said the statements were "morally and factually wrong" in an interview with The Boston Globe.
White House spokeswoman Karine Jean-Pierre called RFK Jr.'s position both "vile" and "false." She also said RFK Jr. is putting American lives in danger. Other outlets have labeled Kennedy Jr. as 'anti-Semitic." The candidate responded to these allegations on his Twitter account by noting this was an off-the-record conversation and he never stated the virus was created to spare Jews. He said he was citing known research in the field of ethnically targeted bio-weapons for which he included a link. 
Copyright 2023, Daily360.com