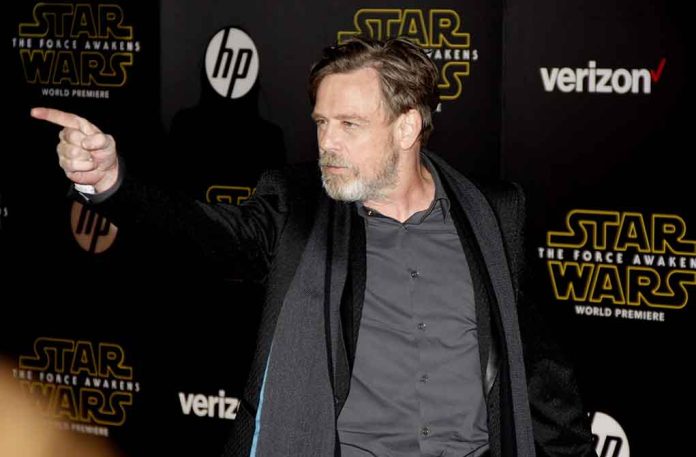 (Daily360.com) – Add famed Star Wars actor Mark Hamill's name to the list of celebrities all in for Ukraine. Mark stepped back into his Luke Skywalker character persona to record air raid warning messages. Now should Russia launch an air offensive Ukrainian citizens will hear Hamill as Skywalker says "Attention, Air raid alert. Proceed to the nearest shelter," via an app called Air Alert. When the threat is deemed to have passed Hamill will be heard on the app saying "The alert is over. May the Force be with you." He also recorded some known lines from the film franchise for the app, meant to inspire and hearten the Ukrainian people.
Hamill says he was pleased to do it as he's admired the Ukrainian people and leadership from his home in California. He said the fight with Russia reminds him of the fictional galactic fable Star Wars he starred in some decades ago. He refers to the conflict as a "fairy tale" pitting the forces of good, in this case Ukraine, against the evil being Russia. He believes his voice on this app is a contribution he can make to the Ukrainian effort. Beyond lending his acting talents to the app, Hamill sent funds to Ukraine so they may buy an additional 500 drones for the city of Kyiv. He wants the drones to be used to fight the "evil empire" of Russia. Ukrainian President Volodymyr Zelensky named Mark Hamill an ambassador for their fundraising program called UNITED24's "Army of Drones".
The Falcon and the Snowman actor Sean Penn notably visited Ukraine last year presenting Zelensky with one of his acting Oscar awards and saying he could melt it down if it would help the war effort. Penn also campaigns frequently through various media and television appearances advocating for Ukraine. Most recently another franchise film star, Orlando Bloom of the Pirates of the Caribbean series met with Zelensky in Kyiv. Bloom acting as a UNICEF goodwill ambassador presented Zelensky with gifts and offered encouragement for his war efforts.
Copyright 2023, Daily360.com