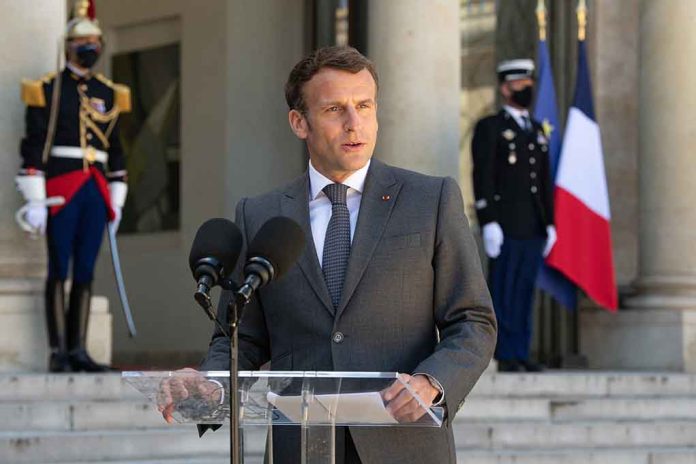 (Daily360.com) – French President Emmanuel Macron is hemorrhaging support in his nation. He sits at a 26% confidence rating, down another four points over just the last eight weeks. These numbers are at a similar level to 2018 when the "Yellow Vest" protests were consuming the streets of France. That was about Macron's attempts to institute hefty carbon taxes. At the heart of the plummet, this time is Macron's ramming through pension reforms without a vote. The survey also showed citizens who do not trust Macron at 70% up from 57%. Moreover, there was a nine-point leap in people who say they "do not trust him at all" which now stands at 50%. These stats are also the highest since the Yellow Vest protest of 2018.
If Macron were looking for a silver lining he could perhaps take solace in the fact that former French President François Hollande had 60% of the nation say they reject his leadership in 2015. Macron who's recently entered into the second year of his term is presiding over a nation being torn apart. Although not receiving many headlines in the West, millions of French people are out in the streets daily protesting their government and president. Among the protestors, many are taking the opportunity to riot, loot and set fires around Paris. Garbage continues to pile up as services can't be performed due to the unrest. There are also numerous consumer shortages in fuel as refinery workers have gone on strike.
The strikes began last summer over inflation, cost of living increases, pandemic protocols, supply chain problems, Ukraine policies, and other daily strife. However, it was Macron's forcing the pension change from 62 years of age to 64 that sent things to the next level and has the nation where it is today.
The chaos in France led Macron to cancel a planned trip by King Charles of Britain last week. Despite that and these issues being unresolved and growing in intensity Macron will depart next week for a trip to China.
Copyright 2023, Daily360.com