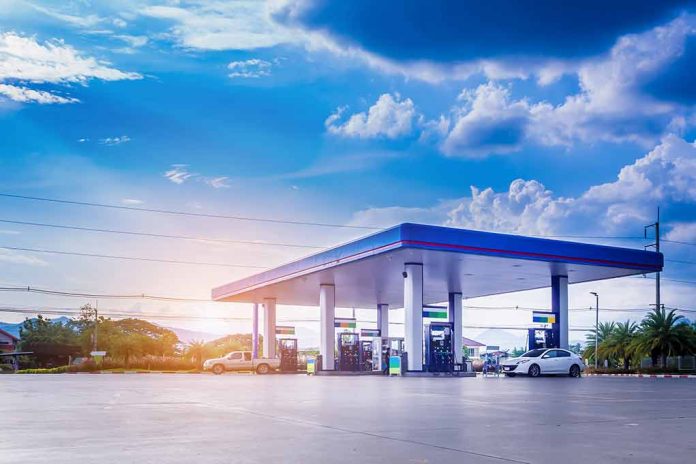 (Daily360.com) – A Florida man stands accused of stealing over $9,000 worth of gas from local Wawa stations. The three targeted Wawa's were located within Orange County, Florida. The suspect's name is Yerrison Perez, he's easily identified by a large tattoo of the "Eye of Providence" with large wings on either side on his throat. Perez was arrested in Orlando and charged with three counts of grand theft as well as one count of scheme to defraud. A warrant was issued for his arrest in early September and he was picked up by the Florida Department of Agriculture about two weeks later.
The gas thefts Perez is accused of took place from June to July of this year. He is accused of stealing more than 1,300 gallons of fuel. Authorities used video surveillance to identify and track down Perez. They say they also used a combination of tracking business records, bank records and other methods to identify Perez. Wilton Simpson, Commissioner of Agriculture issued a press release praising the collaboration between various law enforcement groups with investigating the crimes and the subsequent arrest of Perez.    
Another story making headlines out of Florida featured two women astonishingly drunkenly tossing a baby around like some kind of toy. Brianna Lafoe, 19, and Sierra Newell, 20, were reveling at a local Daytona Beach bar when Lafoe allegedly stood up and began to shake the baby aggressively and then began to swing him from side to side and up and down. She held him by the ankles and shook his head just above the concrete sidewalk. Lafoe then struck a passerby on the arm as she mistreated the baby. The incident was captured by a neighboring store's security camera. Lafoe and Newell were stopped by bystanders who stepped in and took the baby from Lafoe. The women both under 21 were intoxicated and have been charged with child abuse. The baby was taken to a nearby hospital for examination where his condition continues to be evaluated; it is not yet known who the baby belonged too.
Copyright 2023, Daily360.com