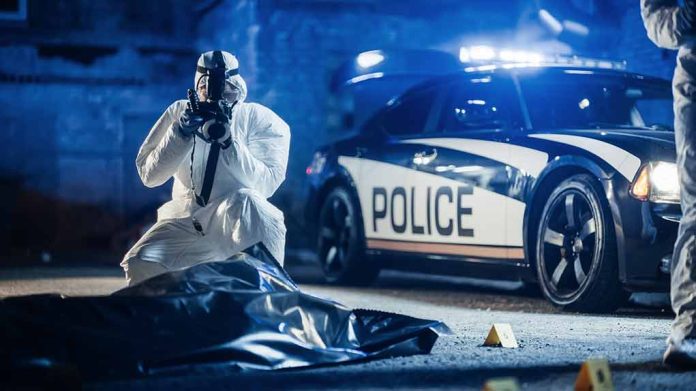 (Daily360.com) – New York City has seen a surge in violent crime in the last few years. Videos continue to go viral showing murders, assaults, vandalism, and other felonies. One such video occurred in a Harlem smoke shop. Men were seen talking, perhaps arguing, then one man wearing a jacket with the FDNY logo casually pulled a pistol from his jacket and murdered the other man execution style. The video garnered much attention, forcing authorities to pursue the killer. The NYPD arrested 21-year-old Messiah Nantwi for his execution murder of Brandon Brunson. There's more to his arrest as police also charged him with the murder of a 19-year-old man named Jaylen Duncan. They say Nantwi committed this killing just 30 hours prior to the smoke shop homicide. Nantwi has been out on bail after he was arrested for the attempted murder of a police officer after he fired on officers during a graffiti stop in early 2021.
During that graffiti shooting incident the police returned fire on Nantwi and hit him several times. Nantwi who was 18 at that time was released after posting $30,000 of his assigned $300,000 bail. The judge reduced the amount to $300,000 from the $500,000 he was set to issue at the request of prosecutors. Nantwi is a known member of the street gang OTN Goodfellas, he was picked up on Lenox Avenue while riding a Citi Bike. The police recognized him from pictures of the video they'd been provided, they also located the 9mm pistol he used to kill the men nearby.
The smoke shop video shows Nantwi shooting Brunson who falls to the floor, after which he is still moving when Nantwi stands over him and fires another shot into his head killing him. The other patrons of the store, as well as the cashier, fled the scene after the first shot was fired. Smoke shops, like the one where the murder occurred, have become a growing problem for neighborhoods since the state legalized marijuana. Robberies and other violent incidents have been up over 10% since last year.
Copyright 2023, Daily360.com