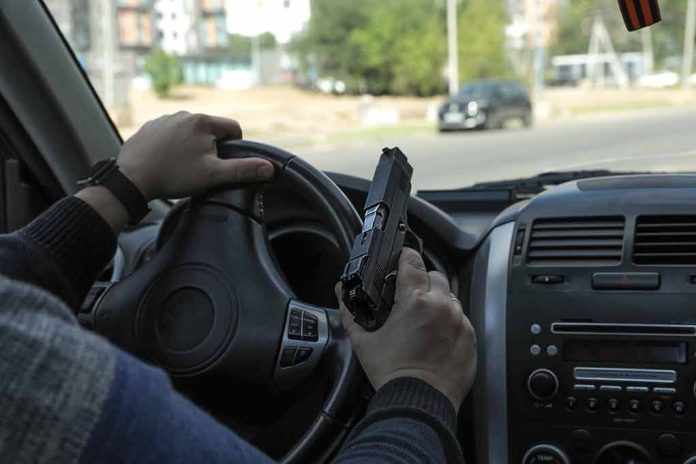 (Daily360.com) – A man in New York City being dubbed the "scooter shooter" is currently under arrest after a vicious shooting spree that left three people injured and one man dead. The accused shooter is 25-year old Thomas Abreu. 
Frightening surveillance video footage pieced together captured most of the violent spree. It took place across two New York City boroughs beginning in Brooklyn just after 11 a.m. last Saturday morning. The shooter riding a small sit down scooter on the road casually passes a pedestrian walking on the sidewalk, draws his pistol, and begins firing. The shots struck a 21-year man in the shoulder, after he fell to the ground the rider continued along the road. 
Roughly 20 minutes later on Jamaica Avenue in Queens he shot at another man walking his dog. Tha man was able to flee but the man who was walking just in front of him turned to see what happened when the shooter shot the second man squarely in the back. The sad video shows the 86-year-old victim stumble around at first, confused and in pain before he falls to the ground and dies. 
The shooter again simply rode away. The next victim was a 44-year old man who was shot in the cheek and remains hospitalized in critical condition. The fourth person shot was a 63-yr-old man on 134th Street in Queens who was hit in the shoulder but his injuries are described as non-life-threatening. 
The suspect, Abreu, was captured later just after 1 p.m. near Sutphin Boulevard and 94th Avenue in Queens. Police say Abreu has made strange statements referencing chip implantation in his head and saying certain entities wanted him dead. He also angered onlookers as he smiled when being put into the police car after his arrest. Later during arraignment, Abreu was falling asleep and the judge asked him if he was "alert enough to go forward." The alleged shooter had been working at a Dominican Restaurant called Sazon Perez but co-workers say he called out that day because he said "people were after him." Abreu allegedly told police among those after him are the Chinese, Russians, Italians and "Africa." His neighbors described him as a "known nuisance."
Copyright 2023, Daily360.com