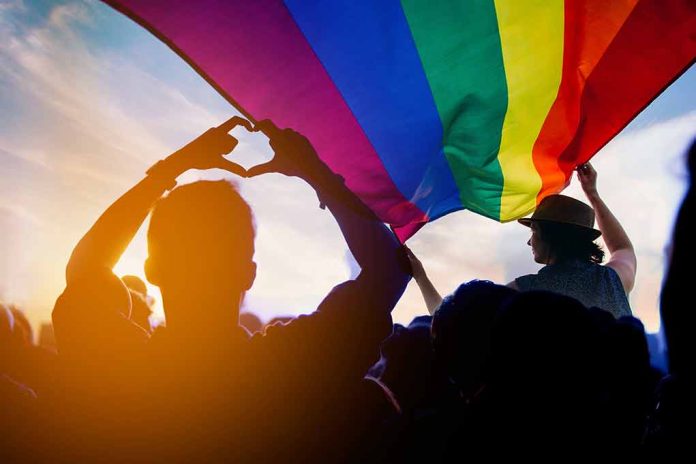 (Daily360.com) – Patrick Murphy is being accused of moving a series of LGBT pride flags from a fence in New York City's West Village. The 25-year-old is now being charged with criminal mischief with a hate crime enhancement. The city which is currently overrun with crime and illegal aliens draining all its resources says Murphy and two other men were partaking in a "criminal mischief pattern."
Politicians were quick to jump on the photo of the largely undamaged flags resting on the ground. Erik Bottcher a City Councilor posted the photo to his Twitter boasting about his will to not be "intimidated" by the flags placed on the ground, instead of the fence. He ended his post but placing a rainbow and fist emoji. 
The city has used its resources trying to track down Murphy and the other men for months. They see the roughly one dozen flags on the ground some of which had broken sticks as a serious crime. Murphy pleaded not guilty and his lawyer added that it is "preposterous" to charge Murphy with a hate crime; he says there was no hate crime. He added that as the process moves forward he will show evidence that the men were not targeting "gays or their symbol, the gay pride flag." 
New York City also charged a woman with multiple hate crimes back in February for pulling down and then burning a pride flag from in front a Manhattan restaurant in the Soho neighborhood. This is not only a United States charge, Canadian officials were seeking a driver who left tire skid marks on a pride flag painted onto a street. While this charge is becoming regular, many are questioning its legitimacy. They say if it's not a crime to vandalize the American flag or Bible why is the pride flag offered these special protections? They argue this is First Amendment protected speech. 
Copyright 2023, Daily360.com