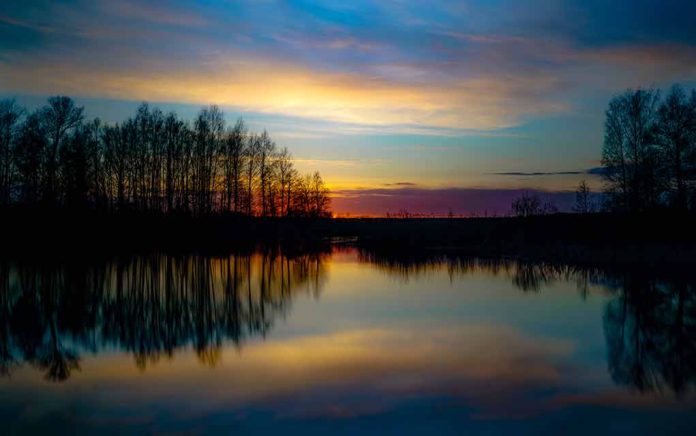 (Daily360.com) – A video out of Texas shows a family swimming and having fun at Huntsville State Park before encountering a giant predator sneaking up on them. A man named David Siljeg was filming the family frolicking when a 12-foot alligator made its way into the frame. 
The alligator was heading toward the small children within the group when a bystander rushed toward the creature making wild and loud movements. He said at first he thought the alligator would just move one but then felt the animal was going into "attack mode" and needed to be confronted. As the bystander made a ruckus the children were ushered out of the water and out of harm's way. 
After the children were back on land a woman inexplicably decided to approach the large predator armed with nothing more than a "floatie." Lucky for her though the alligator decided to leave the scene and headed toward the shore line away from the people. The area has many signs warning about alligators, advising people to stay away from them; Texas Parks & Wildlife remind people to stay at least 30 feet away from alligators as they are extremely agile and fast and will defend themselves if they feel threatened.     
Alligator encounters have been on the rise lately. A man recently posted video from Alabama during some water play; a large alligator emerged from the water line and revealed itself to the stunned revelers. The encounter was on Dauphin Island with waters coming from the Gulf of Mexico which experts claim is quite rare. Alligators, unlike crocodiles, don't fare as well in salt water as they don't have the salinity-regulating mechanism in their mouths. Experts say despite this minor issue, alligators will hunt these environments as they look for prey like stingrays, blue crabs and sometimes even sharks. Locals still talk about a 2003 incident where people witnessed a gator feasting on a nurse shark. 
Copyright 2023, Daily360.com