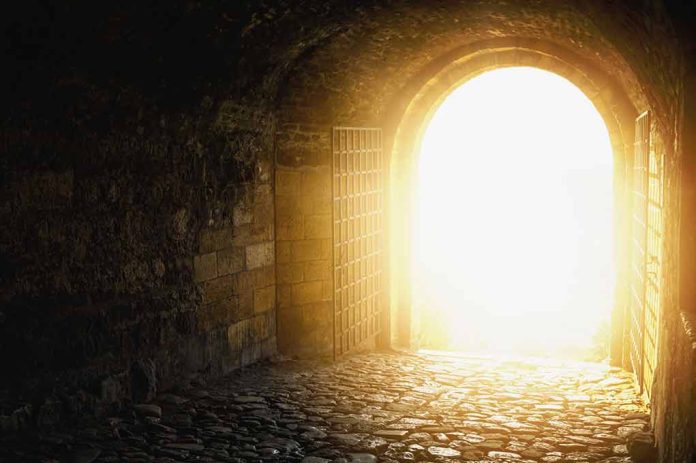 (Daily360.com) – Controversial soccer personality Megan Rapinoe was back in the headlines because of what happened during her final professional game before retirement. Rapinoe went down to the grass with no other players around her due to what they call in sports the 'dreaded non-contact injury.' That phrase exists because this type of injury is usually tissue or tendon-related and almost always requires surgery.
Rapinoe said she believes she tore her Achilles tendon while trying to take a step toward the ball. While answering questions about the injury, she made headlines with a seeming non sequitur about God. Rapinoe said she believes her injury is "proof" that God does not exist. She prefaced this by saying she is not religious but nonetheless believes for her to be injured in her last game proves there cannot be a divine being. She called the injury "f**ked up," and believes she "did not deserve" to be injured. Rapinoe also famously repeatedly said that she "deserved" to win the World Cup soccer tournament in 2015 with Team USA.
Rapinoe came to prominence during World Cup play because she would protest the American national anthem no matter where the game was played. She took to kneeling during the anthem following the example of former NFL player Colin Kaepernick. Rapinoe is an outspoken advocate of many left-wing causes which has raised her media profile significantly in recent years.
Rapinoe said she intends to reach out to current NFL quarterback Aaron Rodgers and ask who performed his surgery because she believes she will need it as well. She has not had a formal diagnosis but described a "huge pop" before falling to the ground. She finished her remarks by oddly saying "thank God" for what she believes is her "(expletive) deep well of humor" to accept this injury during her last game. Media personality Charlie Kirk quipped on his podcast that Rapinoe's injury is 'proof that God does exist' to him.
Copyright 2023, Daily360.com