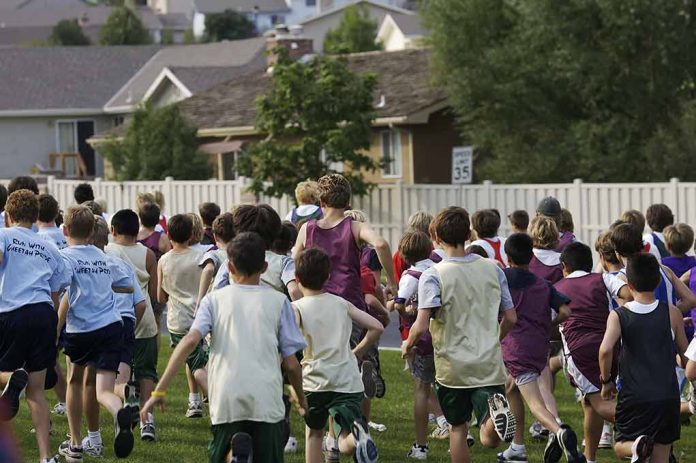 (Daily360.com) – Massachusetts' Marshall Simonds Middle School decided to hold a "spirit day" celebration for their students and faculty in recognition of "Pride Month." They hung rainbow flags, rainbow streamers, handed out pride stickers, hung banners, hung slogans such as "Happy Pride Month," and "why it's not ok to say, that's so gay." 
The sponsoring Spectrum Club, which is the campus LGBTQ organization, encouraged all students and faculty to dress in accordance, wearing something rainbow themed. However, some students decided to exercise their own free speech and conduct a counter-event. Students came wearing red, white and blue with matching face paint. These students openly declared that "U.S.A. are my pronouns" and removed some of the rainbow paraphernalia adorning the interior of their school.
This expression choice was not met with acceptance or tolerance by school administrators. The school's principal Cari Purchase wrote that while she respects freedom of speech, she was "extremely disheartened" by the non-conforming students. Purchase labeled them as having been "demeaning" to the LGBTQ club. She wrote that along with respecting freedom of speech she values the school's diverse community and opinions but the actions of the "U.S.A". students in her estimation were unacceptable. 
The principal apologized to the LGBTQ students and said the school is to be a safe space and that seeing people with opposing views created an unsafe environment. The district's superintendent went even further. Eric Conti wrote to the parents of the school's students, denouncing the protestors' views and claiming what they did "has no place in our schools" unlike 'spirit day.' 
The saga does not end there, however, as Purchase has said she favors looking into a sort of re-education program for the dissenters, one that will have them be taught the appropriate views of respect, tolerance and acceptance. At least one parent agrees with this idea, stating her child had mental health issues prior to coming out as gay and the counter protest children should be trained to "become allies."
Copyright 2023, Daily360.com